Franciscans witness to a genuine love and respect for the poor & vulnerable.
For Francis, poverty involved not only serving the poor but being poor and connected to those who were poor and outcast. This service to and identification with the poor was at the heart of the lives of Francis and Clare, it is there that they discovered Christ as "the poor Son of the poor Mother." Following the example of these saints, members of the Franciscan family today are called to be with and identify with the poor and vulnerable and with all who face discrimination of one form or another. We are called to be in solidarity with them in their struggle to have their God-given rights honored by others. We are called to develop a lifestyle that brings us close to the poor and makes us sensitive to those who are most vulnerable.
"Poverty calls us to be vulnerable, open and receptive to others, to allow others into our lives and to be free enough to enter into the lives of others. While Clare (and Francis) call us to be poor so that we may enter into relationship with the poor Christ, they also ask us to be poor so as to enter into relationship with our poor brothers and sisters in whom Christ lives."
– Ilia Delio, O.S.F., Clare of Assisi, A Heart Full of Love p. 11-12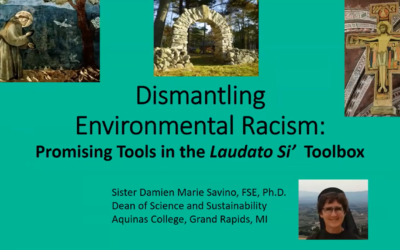 ​With a love of lakes and self described passion for all creation, FAN Board Member Sr. Damien Marie Savino, F.S.E., Ph.D. serves as Dean of Science...
Would you like to work with us on the important issue of Poverty?