The Interfaith Immigration Coalition (IIC) is co-hosting two weeks of call-in days to urge our elected officials to "Heal Not Harm" and terminate the Title 42 policy. Franciscan Action Network as an active member of IIC will be participating. The latest call-in day is Wednesday, August 3rd.
Resources:
Background:
All faith traditions have a moral mandate to protect vulnerable populations, to restore relationships and to heal communities. Franciscans emphasize the dignity of all human beings and are dedicated to a consistent ethic of life. The pandemic is still being used as justification for refusing, detaining, and deporting asylum-seekers at the U.S.-Mexico border, months after most COVID-19 public health restrictions in the U.S. have been lifted. We find this unacceptible.
Under the CDC's Title 42 program, almost all asylum-seeking families and individuals are being denied their human and legal right to seek safety. The CDC has already acted to revoke Title 42 because it is not contributing to public health, but a conservative judge has kept it in place through a legal battle. Now, anti-immigrant political leaders want to ensure Title 42 continues to control migration and restrict asylum at the border, and are pushing amendments on Title 42 through Congress.
Like most efforts historically to control cross-border migration, Title 42 does not deter those seeking safety in the U.S., but pushes them into more dangerous circumstances while trying to get here. Thousands of people stuck in dangerous border cities in Mexico have been kidnapped, sexually assaulted, and forced into labor, while others have died from lack of medical care. Black asylum-seekers, especially Haitians, have been disproportionately impacted by Title 42. It simply isn't true that U.S. Customs & Border Protection (CBP) does not have the capacity to process asylum-seekers in a safe and orderly manner at the border. We have seen how it is possible when the political will is there, such as when Ukranians were exempted from Title 42.
Members of Congress are trying to make this policy permanent by attaching amendments to keep Title 42 in as many bills as they can manage, including budget bills. Right now, a COVID relief bill is being held up in part due to conflicts about including Title 42 but we can't meet the very real needs of our communities impacted by COVID at the cost of asylum-seekers' lives and safety.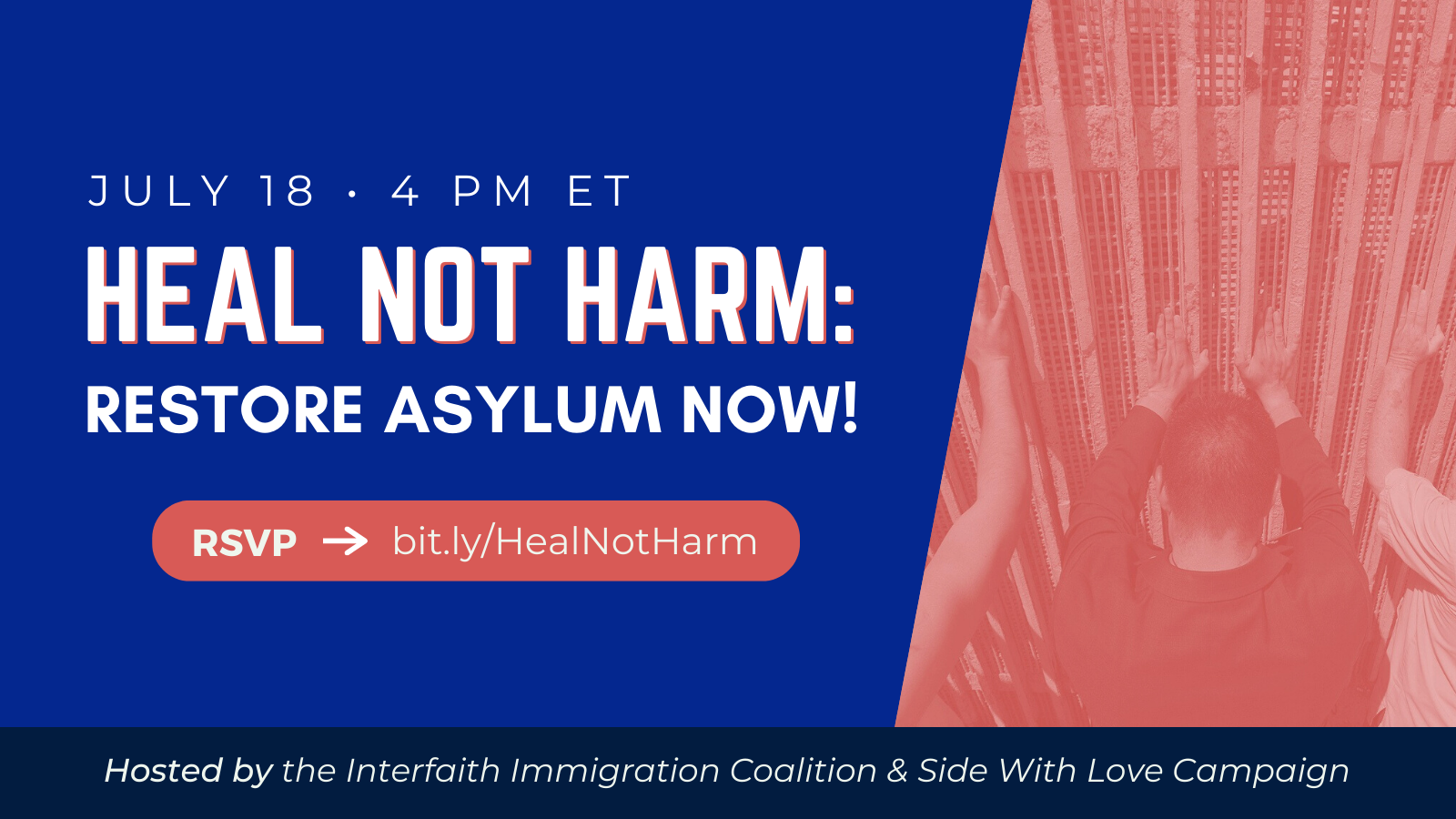 Heal Not Harm: Restore Asylum Now Webinar
Join us on July 18 at 4pm ET / 1pm PT for a webinar which will provide a learning and action space for people of faith to receive updates about the broader asylum political landscape, take concrete next steps to counter efforts to keep Title 42 in place and advocate for restoration of liberatory asylum policies. Use the button below to register.
We can't stand by as Title 42 continues to expel people back to danger and even death. It is vital that we let Senate and House members know that we reject anti-asylum amendments and legislation that would codify Title 42 into law. We need to make the Senate our focus because they can still pass versions of the funding bills that don't include Title 42 and push hard to remove the House's anti-asylum amendments during reconciliation.
We urge you to contact both your Senators using the Capitol Switchboard at (202) 224-3121. Call twice, once for each of your Senators. Another option is to use this handy call-in tool. When you enter your information, you will receive a call back when your Congressional members' office is available. Here is a sample script:
"Hello, My name is [NAME] and I am your constituent from [CITY/TOWN]. As a person of faith, I deeply value healing, not harming, individuals and families. I am calling because I'm extremely concerned about access to asylum in the United States. The CDC has tried to end their policy known as Title 42 that blocks access to asylum, and many doctors and faith leaders have named the harms of this policy and fought to halt it, but this change is being held up in the courts. I'm disturbed to hear there are legislative proposals that would mandate the continuation of this policy.
The House has already passed appropriations bills with Title 42 attached, and there are efforts to link it to a covid relief bill as well. Title 42 does nothing to protect public health and is being used as an anti-immigrant tool instead. I urge you to oppose all legislative efforts designed to keep Title 42 in place and oppose all efforts that block access to asylum. Thank you for your time."