St. Francis of Assisi, Italian San Francesco d'Assisi, baptized Giovanni, renamed Francesco, original name Francesco di Pietro di Bernardone, (born 1181/82, Assisi, duchy of Spoleto [Italy]—died October 3, 1226, Assisi; canonized July 16, 1228; feast day October 4), founder of the Franciscan orders of the Friars Minor (Ordo Fratrum Minorum), the women's Order of St. Clare (the Poor Clares), and the lay Third Order. He was also a leader of the movement of evangelical poverty in the early 13th century. His evangelical zeal, consecration to poverty, charity, and personal charisma drew thousands of followers. Francis's devotion to the human Jesus and his desire to follow Jesus' example reflected and reinforced important developments in medieval spirituality. The Poverello ("Poor Little Man") is one of the most venerated religious figures in Roman Catholic history, and he and St. Catherine of Siena are the patron saints of Italy. In 1979 Pope John Paul II recognized him as the patron saint of ecology.
Son of a wealthy cloth merchant, Francis was a recognized leader of the young men of the town. In 1202 he took part in a war between Assisi and Perugia, was held prisoner for almost a year, and on his release fell seriously ill. After his recovery, he returned to Assisi where he dedicated himself to solitude and prayer so that he might know God's will for him.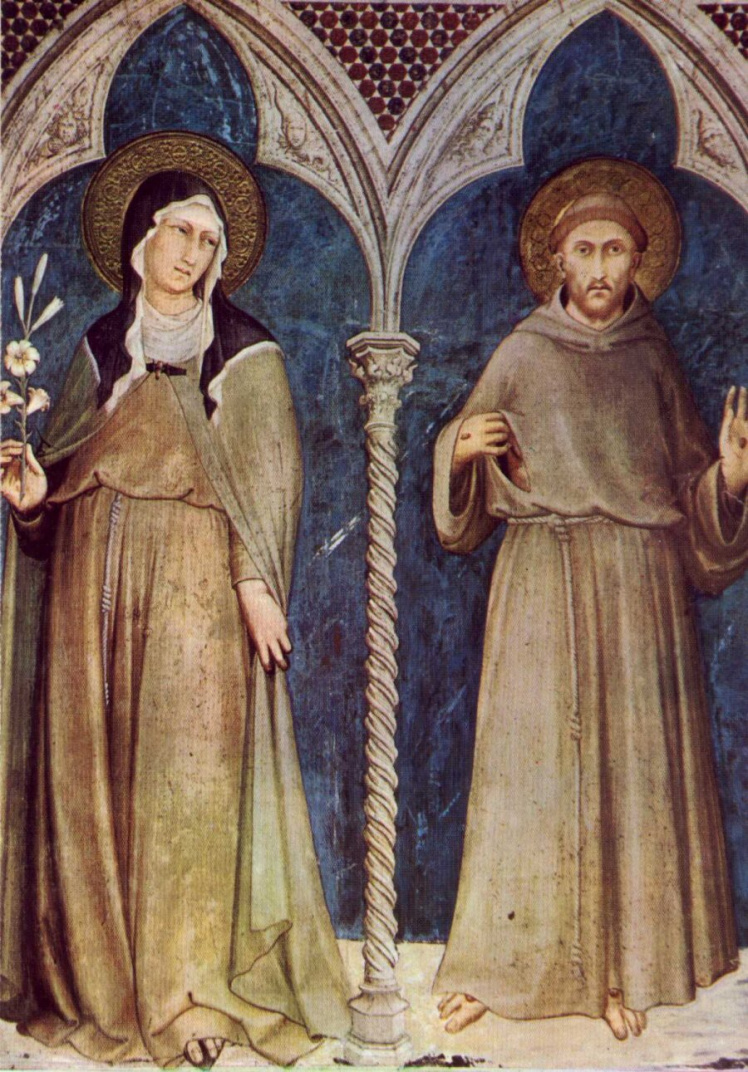 "When I was in sin, it seemed too bitter for me to see lepers. And the Lord Himself led me among them and I showed mercy to them. And when I left them, what had seemed bitter to me turned into sweetness of soul and body. And afterwards I delayed a little and left the world."
—St. Francis
In 1220, Francis sent out a Letter to the Rulers of the People, the text of which encouraged civil authorities to be mindful of Gospel truths. Our work at FAN follows this example and we encourage you to read it.
Saint Clare of Assisi (16 July 1194 – 11 August 1253, born Chiara Offreduccio and sometimes spelled Clara, Clair, Claire, Sinclair, etc.) is an Italian saint and one of the first followers of Saint Francis of Assisi. Francis consulted her, especially when he was discerning between becoming a hermit and being an itinerant preacher. She founded the Order of Poor Ladies, a monastic religious order for women in the Franciscan tradition, and wrote their Rule of Life, the first set of monastic guidelines known to have been written by a woman for women. She valiantly thwarted every attempt by many successive popes to impose a rule on her order which weakened the radical commitment to corporate poverty she had originally embraced. After her death, Pope Innocent IV confirmed that Clare's rule would serve as the governing rule for the Order of Poor Ladies. Also following her death, the order she founded was renamed in her honour as the Order of Saint Clare, commonly referred to today as the Poor Clares. Her feast day is on 11 August.
The Canticle of the Creatures
Most High, all-powerful, good Lord,
Yours are the praises,
the glory, and the honor, and all blessing.
To You alone, Most High, do they belong,
and no human is worthy to mention Your name.
Praised be You, my Lord, with all Your creatures,
especially Sir Brother Sun, who is the day and through whom You give us light.
And he is beautiful and radiant with great splendor;
and bears a likeness of You, Most High One.
Praised be You, my Lord, through Sister Moon and the stars,
in heaven You formed them clear and precious and beautiful.
Praised be You, my Lord, through Brother Wind,
and through the air, cloudy and serene, and every kind of weather,
through whom You give sustenance to Your creatures.
Praised be You, my Lord, through Sister Water,
who is very useful and humble and precious and chaste.
Praised be You, my Lord, through Brother Fire,
through whom You light the night,
and he is beautiful and playful and robust and strong.
Praised be You, my Lord, through our Sister Mother Earth,
who sustains and governs us,
and who produces various fruit with colored flowers and herbs.
Praised be You, my Lord,
through those who give pardon for Your love,
and bear infirmity and tribulation.
Blessed are those who endure in peace
for by You, Most High, shall they be crowned.
Praised be You, my Lord, through our Sister Bodily Death,
from whom no one living can escape. Woe to those who die in mortal sin.
Blessed are those whom death will find in Your most holy will,
for the second death shall do them no harm.
Praise and bless my Lord and give Him thanks and serve Him with great humility.
—From Francis of Assisi: Early Documents
Peace Prayer
Lord, make me an instrument of your peace.
Where there is hatred, let me sow love.
Where there is injury, pardon;
Where there is discord, union;
Where there is doubt, faith;
Where there is error, truth;
Where there is despair, hope;
Where there is darkness, light;
Where there is sadness, joy.
O, Divine Master, grant that I may not so much seek to be consoled as to console:
To be understood, as to understand;
To be loved, as to love:
For it is in giving that we receive,
It is in pardoning that we are pardoned,
And it is in dying that we are born to
eternal life.
—attributed to (not written by) Saint Francis of Assisi
Prayer before the San Damiano Crucifix
Most High, glorious God enlighten the darkness of my heart. Give me true faith, certain hope and perfect charity, sense and knowledge that I may carry out Your Holy and true command.
—Prayer of Saint Francis of Assisi to discern God's will.
Blessing of Saint Francis
May the Lord bless you.
May the Lord keep you.
May He show His face to you and have mercy. May He turn to you His countenance and give you peace.
The Lord bless you.
Blessing of Saint Clare
What you hold, may you always hold.
What you do, may you always do and never abandon. But with swift pace, light step, unswerving feet, so that even your steps stir up no dust, may you go forward securely, joyfully and swiftly, on the path of prudent happiness, not believing anything, not agreeing with anything, that would dissuade you from this resolution or that would place a stumbling block for you on the way, so that you may offer your vows to the Most High in the pursuit of that perfection to which the Spirit of God has called you.
Prayer for Enlightenment
Almighty, eternal, just, and merciful God, grant us in our misery [the grace] to do for You alone what we know You want us to do, and always to desire what pleases You.
Thus, inwardly cleansed, interiorly enlightened, and inflamed by the fire of the Holy Spirit, may we be able to follow in the footprints of Your beloved Son, our Lord Jesus Christ.
And, by Your grace alone, may we make our way to You, Most High, Who live and rule in perfect Trinity and simple Unity, and are glorified God all-powerful forever and ever. Amen.
Subscribe to receive FAN email updates and donate to support our work: