An important part of advocacy for social justice is attending and planning actions. These visible events help our lawmakers in Washington, D.C. and around the country clearly see what issues are important to everyday people and the great numbers of us with Franciscan values.
The staff of FAN regularly participates in many kinds of advocacy actions. We also want to hear about and uplift what you've been doing in your community. Click here to let us know what actions you have participated in.
As being a Franciscan presence in the public arena is part of our mission, here is what we've attended so far this year:
Sept. 13: Invest in Welcoming Communities
FAN staff members joined a press event held by NETWORK and Welcome With Dignity campaign to call on Congress to invest in welcoming communities. Three Representatives spoke at the event followed by delivery of the letter to several House offices. The letter was signed by 9,000 Catholics from all 50 states, urging full funding of the Shelter and Services Progam.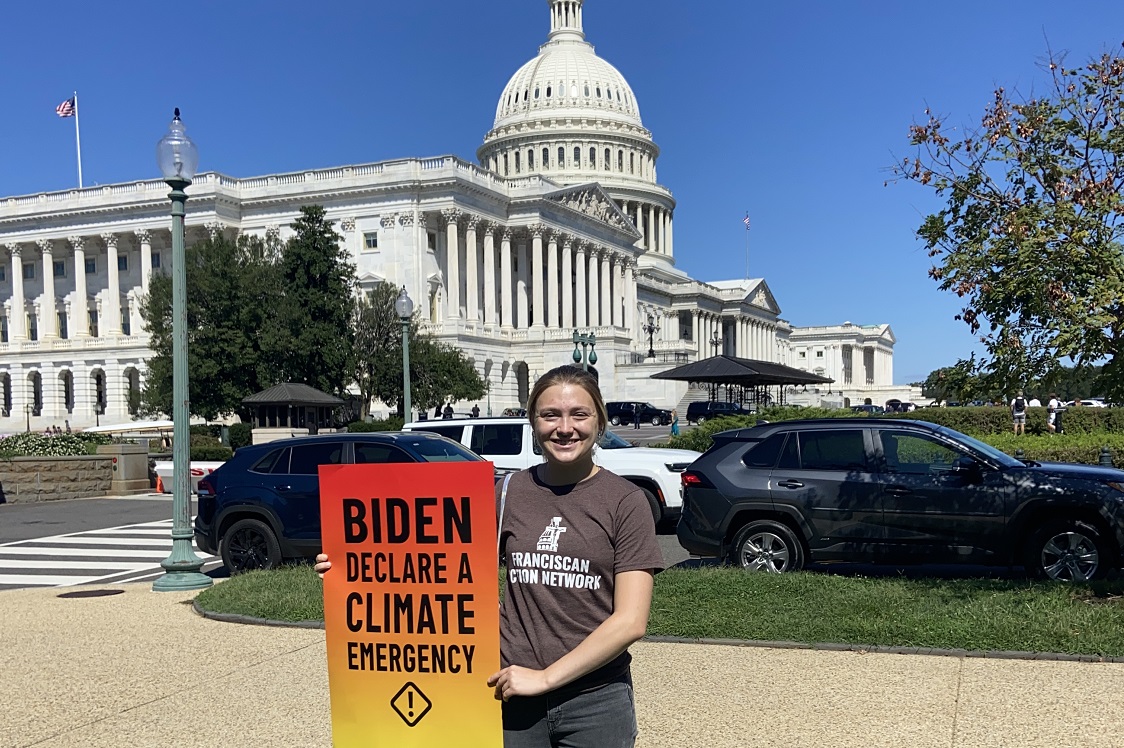 Sept. 14: End Fossil Fuels Rally in D.C.
Gabriela Martinez, FAN Associate of Campaigns, attended the End Fossil Fuels rally in Washington, D.C. hosted by the Center for Biological Diversity. Speakers included Rep. Rashida Tlaib (D-Mi), Senator Ed Markey (D-MA), Rep. Barbara Lee (D-CA), Rep. Jan Schakowsky (D-IL) and others.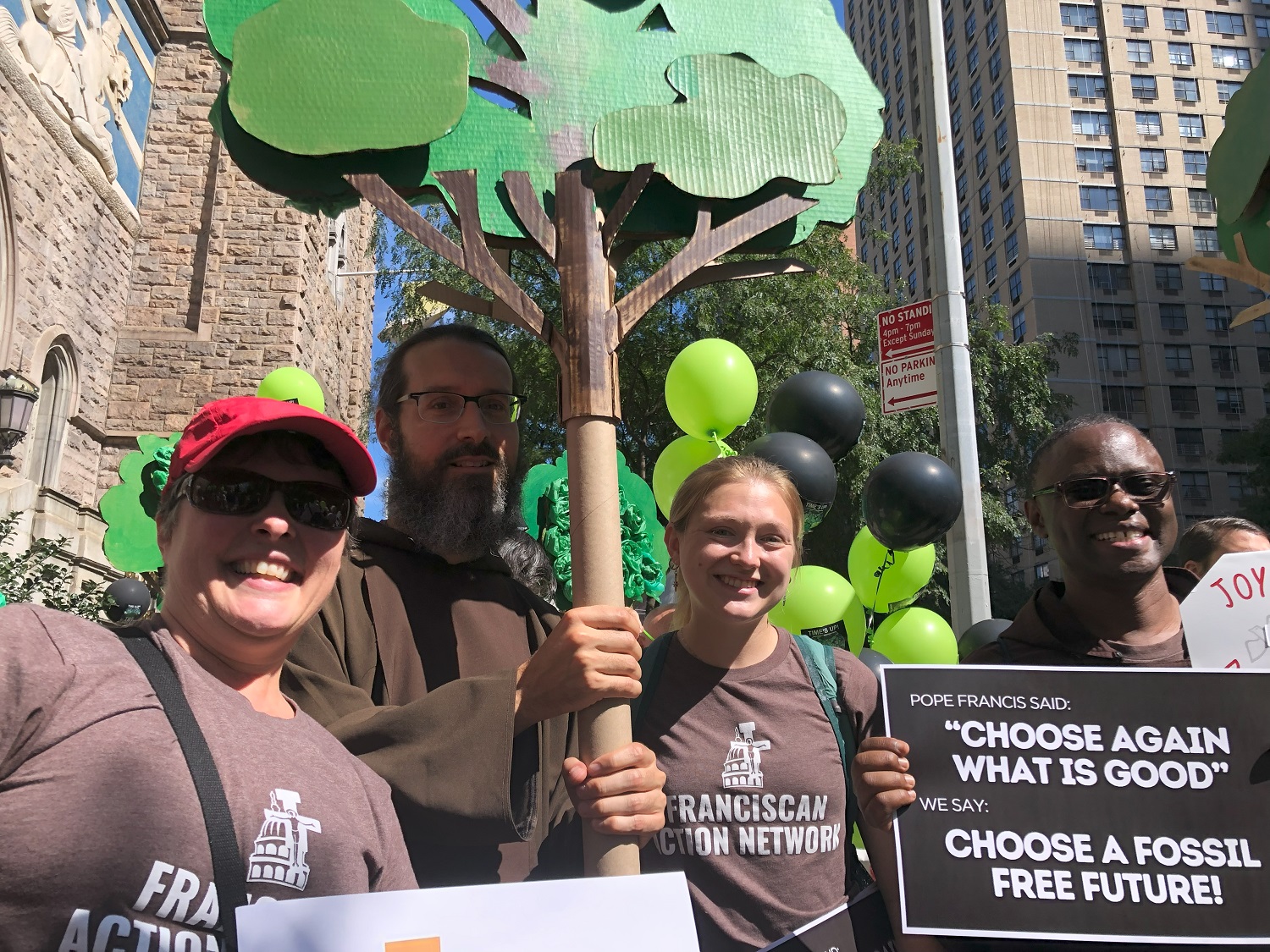 Sept. 17: March to End Fossil Fuels in New York City
On Sunday, September 17, FAN staff members Gabriela Martinez and Janine Walsh joined other people of faith at the march to end fossil fuels in New York City. Reconnecting with brothers, friars, and friends from all faiths, we marched through the streets of New York to a rally at the United Nations to show the Biden administration we want bold action to end fossil fuels.
Articles: National Catholic Reporter, NPR, Associate press, New York Times, The Guardian,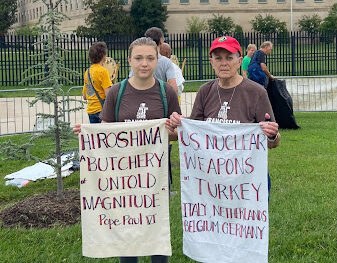 August 6 & 9: Hiroshima-Nagasaki Commemoration Peace Witness
FAN joined other advocates at a peace witness sponsored by the Dorothy Day Catholic Worker in Washington, DC. This year marks the 78th anniversary of the United States dropping the atomic bomb on Hiroshima and Nagasaki. Pope Francis has said "the use of nuclear weapons, as well as their mere possession, is immoral." The US has yet to sign the UN Treaty on the Prohibition of Nuclear Weapons (TPNW) – we continue to pray for the abolition of nuclear weapons.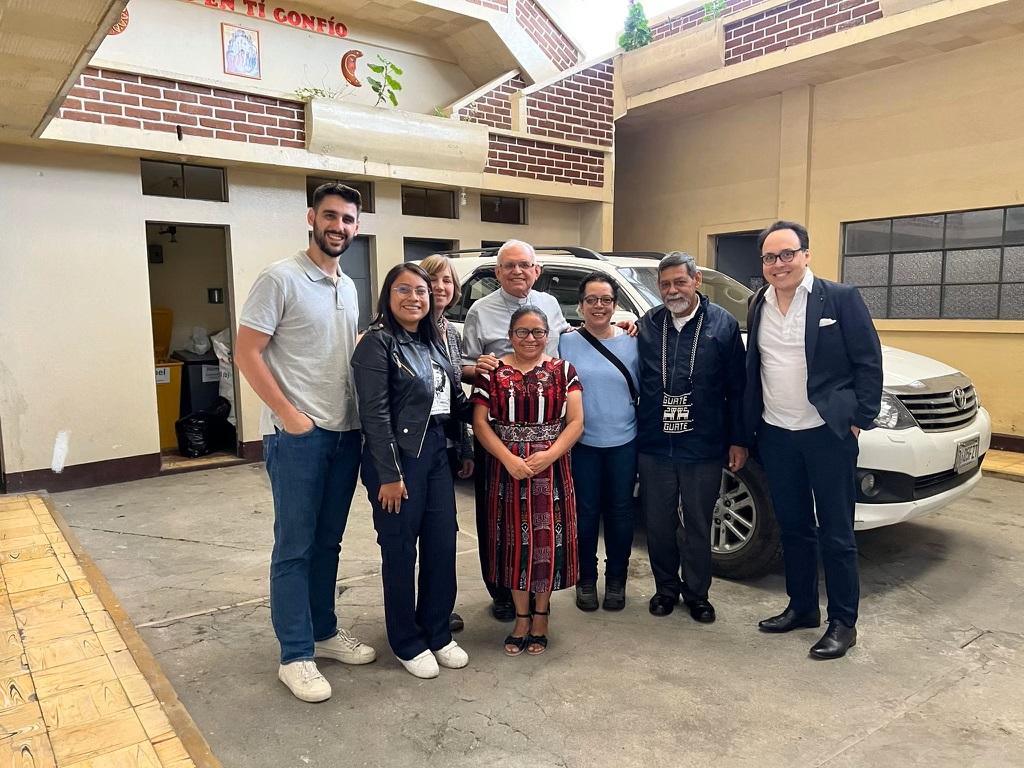 Aug. 17-22: Accompaniment to Guatemala
FAN Executive Director Michele Dunne, OFS participated in a delegation of accompaniment to the people and faith leaders of Guatemala during their presidential runoff election, held Aug. 20. Read the statement from the delegation, which was organized by the Root Causes Initiative and find more photos from the trip below.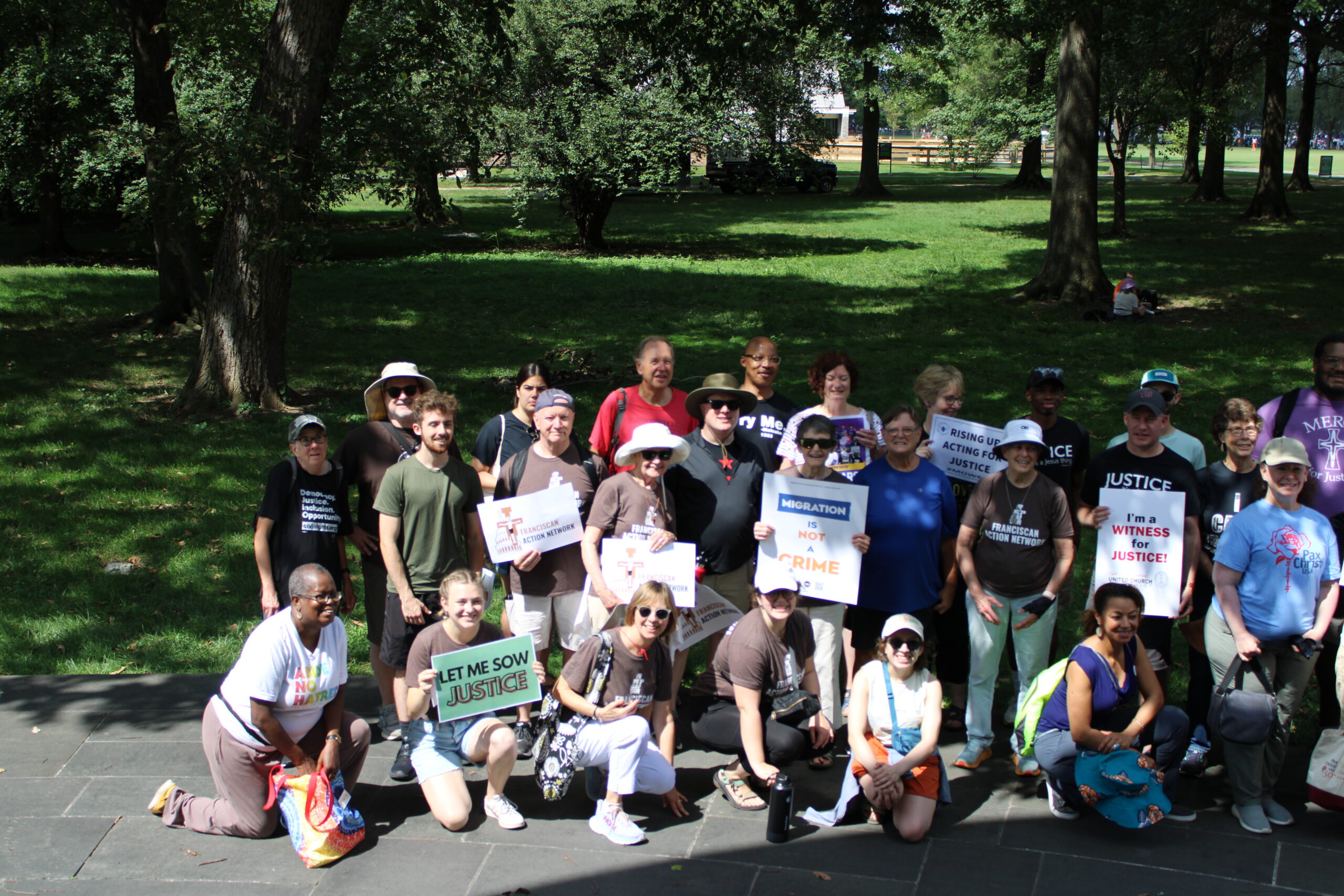 August 26: March on Washington
DC Justice Circle members and FAN staff joined other faith groups for a prayer service and participation in the rally and March on Washington on August 26, 2023. This major civil rights event marked the 60th anniversary of the march organized by Rev Dr. Martin Luther King Jr in 1963.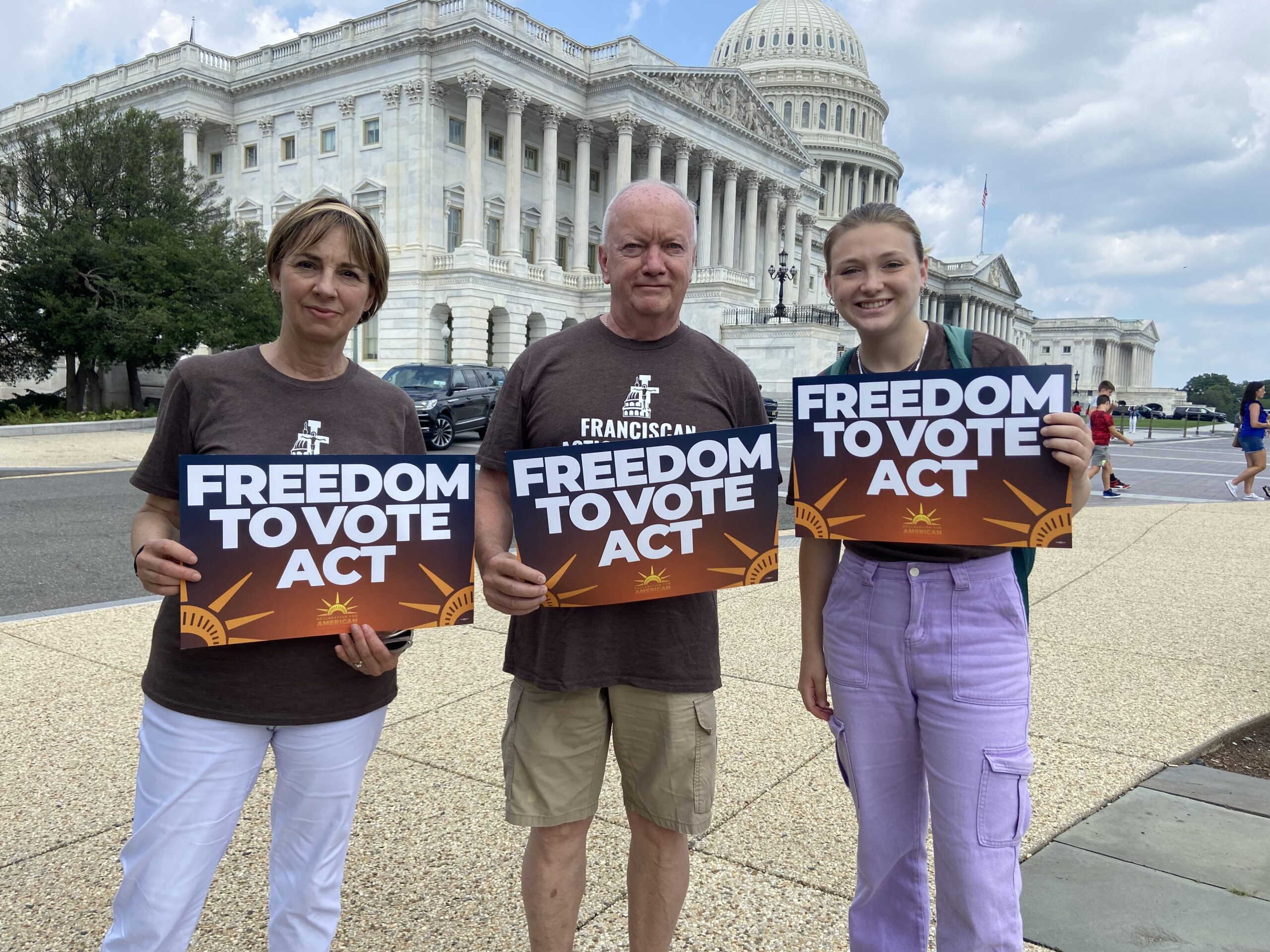 July 20: Introduction of Freedom to Vote Act
FAN joined the Declaration for American Democracy (DFAD) to rally with Members of Congress and leaders from civil rights, labor, environmental, and good government organizations. Together, we called on the need to pass the Freedom to Vote Act Act. Find the full livestream here. 
Press Clips: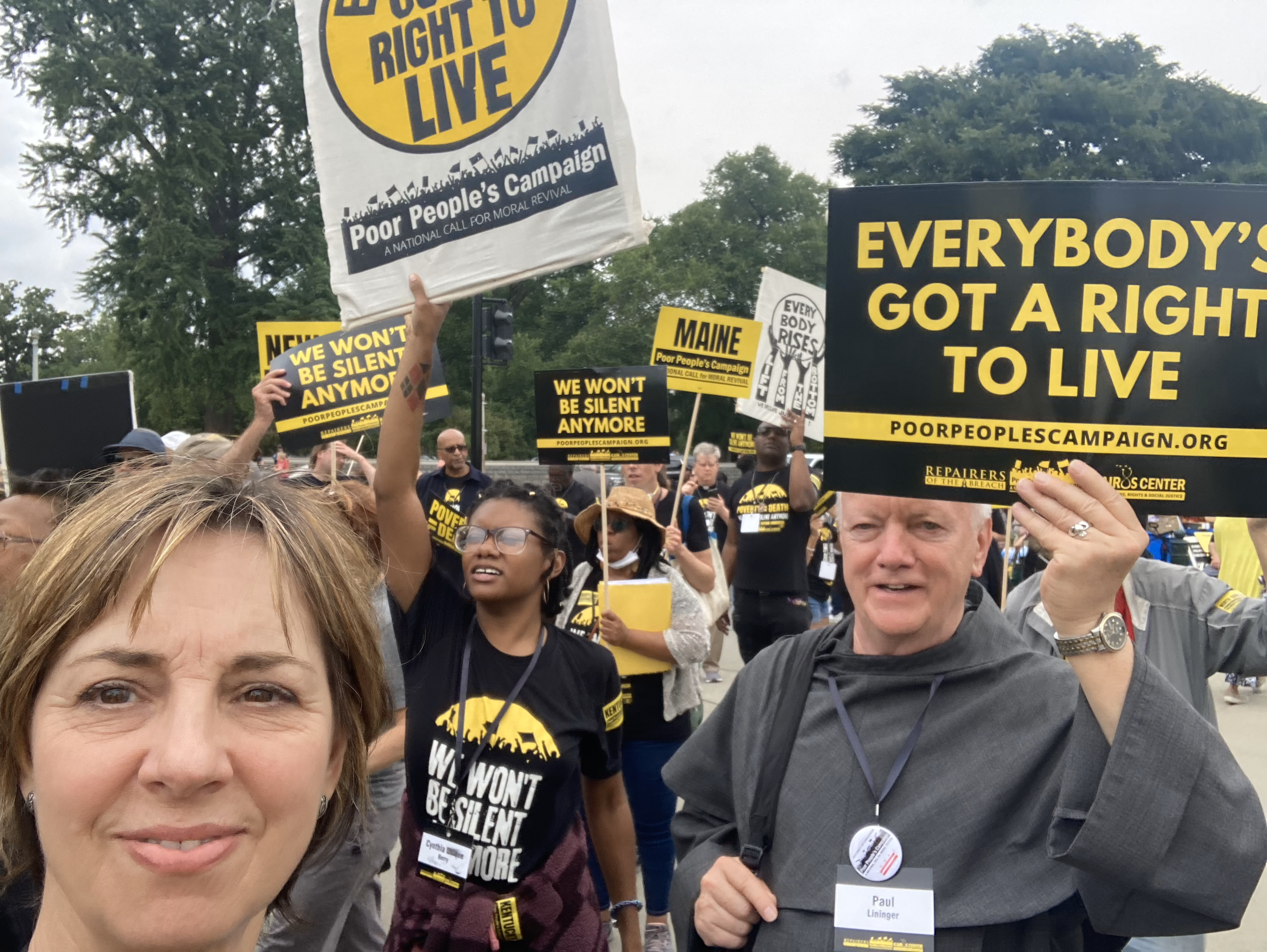 June 20-23: Poor People's Campaign Moral Congress
FAN joined impacted people and faith leaders from across the country for a 3-day moral congress to lay out a vision to fully eradicate poverty. We joined visits to over 400 Congressional offices of Senate and House on both sides of the aisle. Poor and low-wealth state leaders, faith leaders and advocates held a powerful speak out in front of the Supreme Court and testified at the Capitol in support of the reintroduction of a Third Reconstruction Resolution and spoke about the death toll created by systematic poverty in America.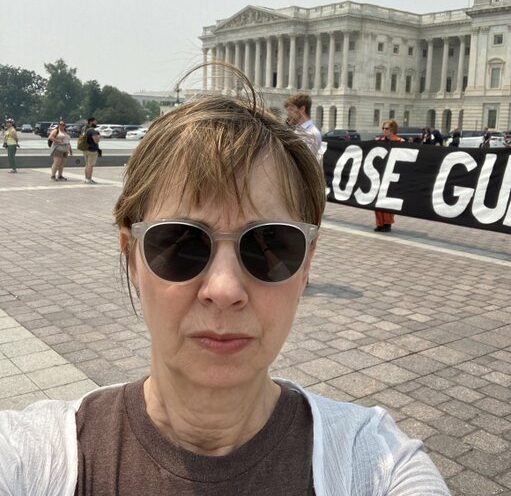 June 7: Close Guantanamo
FAN attended an action today at the U.S. Capitol sponsored by our friends at the National Religious Campaign Against Torture (NRCAT) urging the closure of Guantanamo Bay.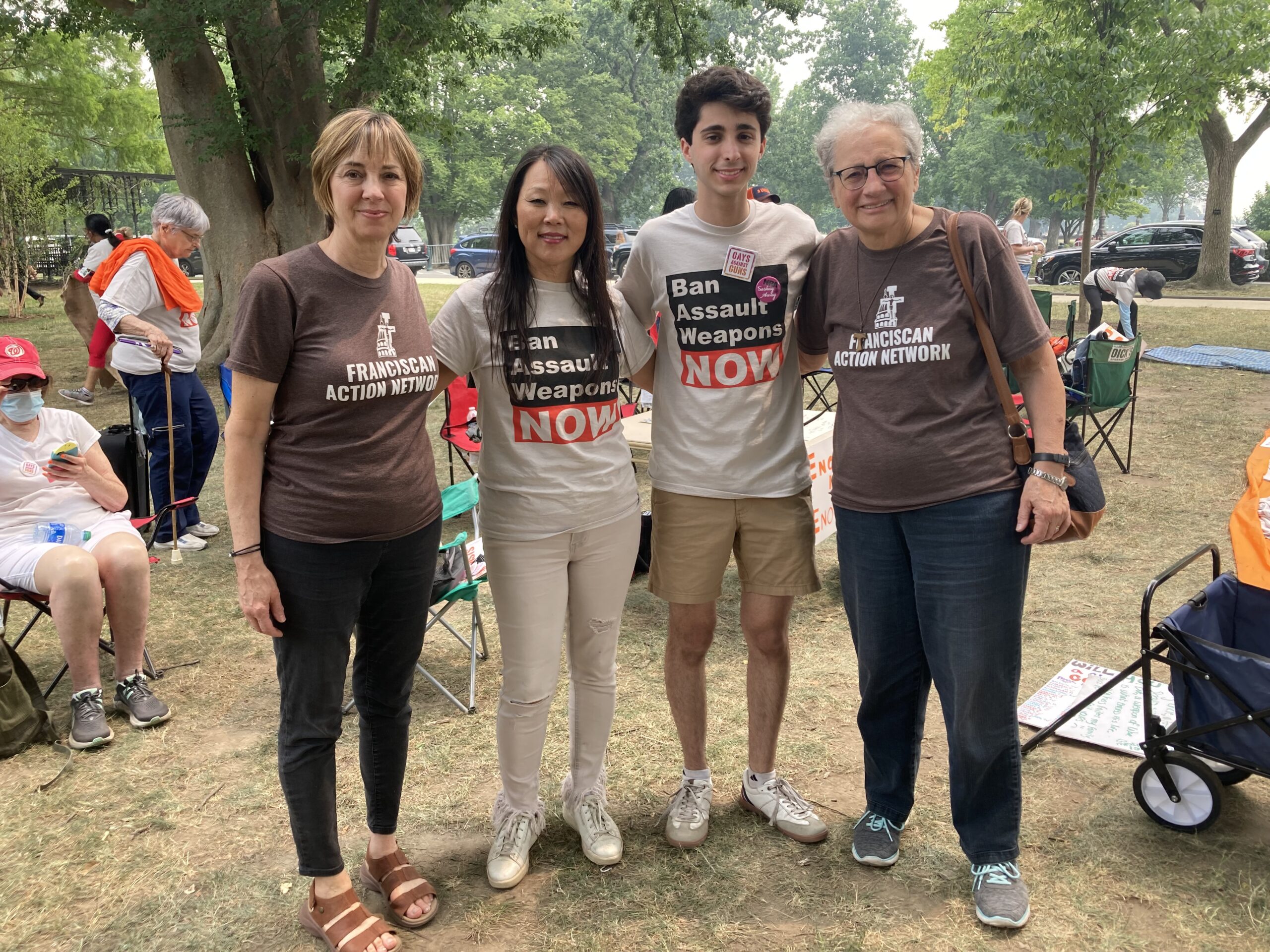 June 8: Ban Assault Weapons Sit-in
Samuel Schwartz is a gun violence survivor "sick & tired of congressional inaction" who coordinated a sit-in at the US Capitol to demand a vote to #BanAssaultWeapons. FAN visited Sam and offered prayers and solidarity along with some snacks.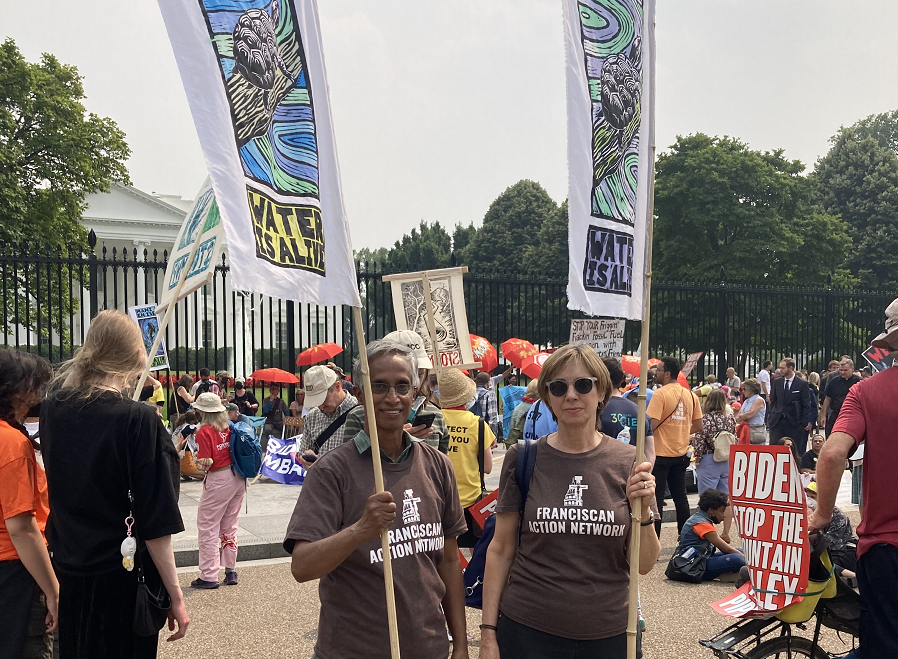 June 8: Protest of Mountain Valley Pipeline
FAN joined People vs Fossil Fuels and other organizers from multiple frontline communities who were at the White House to protest the Mountain Valley Pipeline which threatens to destroy human and natural communities across Appalachia. Read about the event here.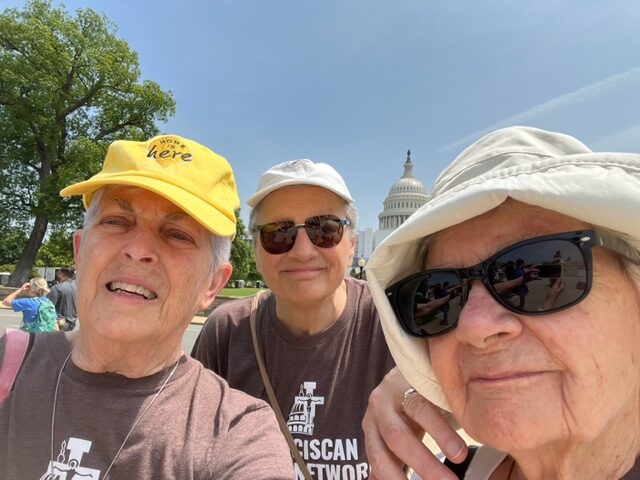 May 11: Enough of Gun Violence Rally
Enough of gun Violence and the Newtown Action Alliance hosted a rally at the U.S. Capitol to let elected officials know they will not be silent and will fight for their right to life in the same way as others claim they have a right to bear arms.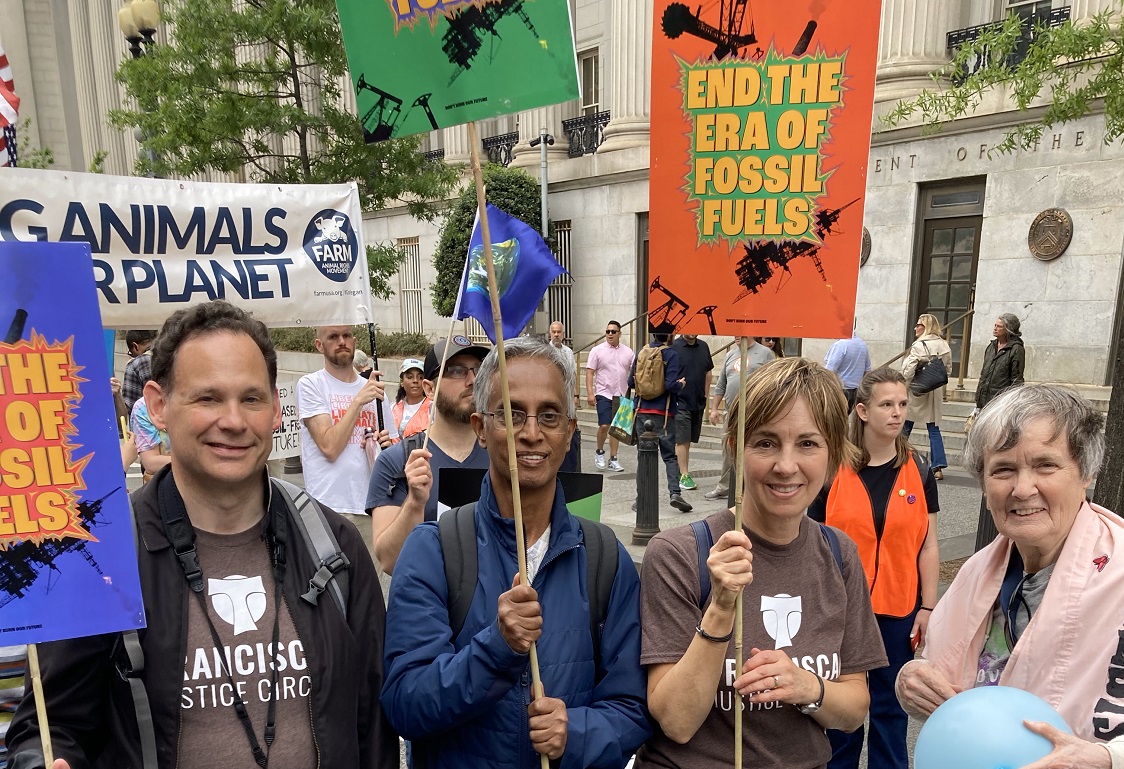 April 22: Earth Day
On Saturday, April 22, FAN Staff joined Earth Day DC in marching to the White House to demand that President Biden take bold action to follow through with his promises to End the Era of Fossil Fuels.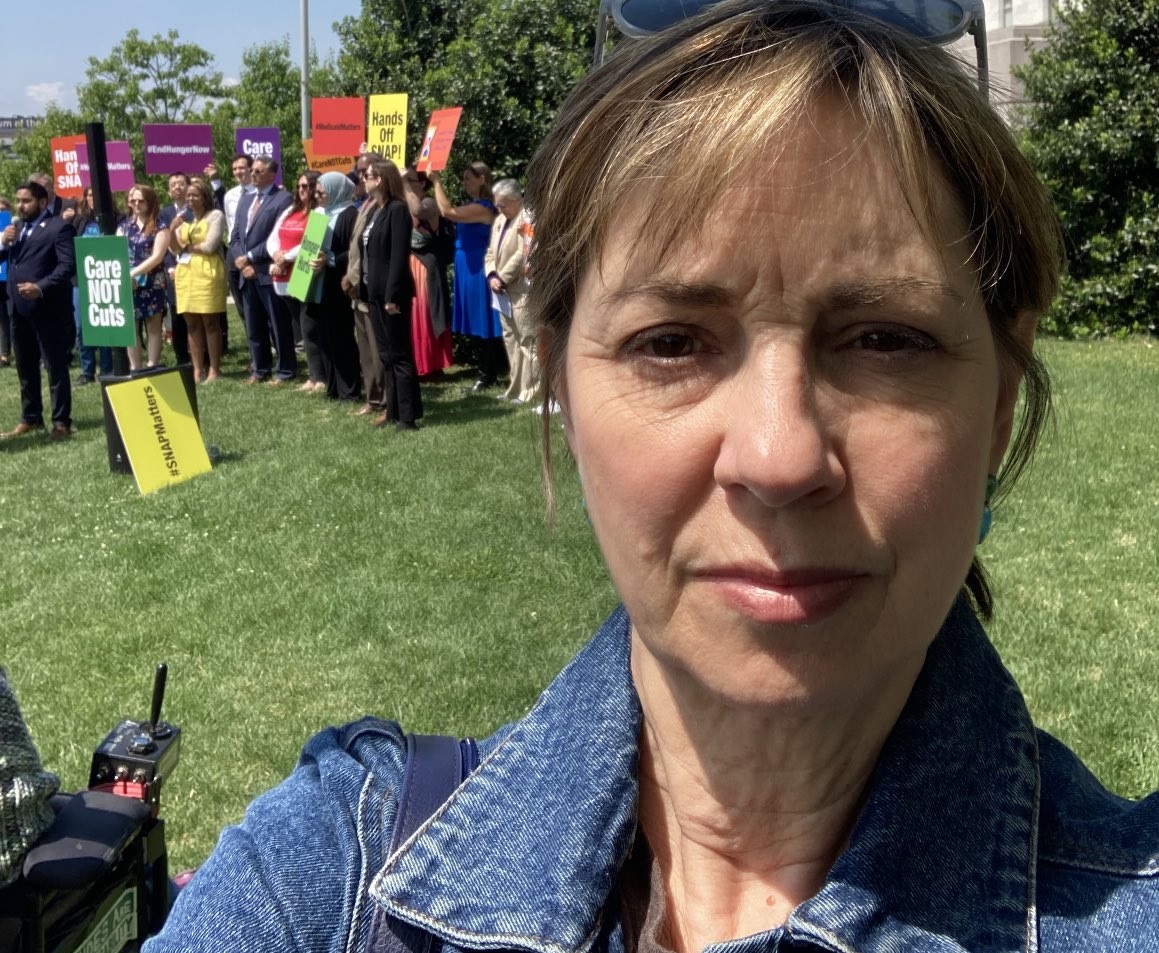 April 26: #CareNotCuts Rally opposing budget cuts
FAN cosponsored a rally in Washington, D.C. opposing the harsh House debt ceiling/spending cut bill. The call was for #CAREnotCUTS in the ongoing budget plans.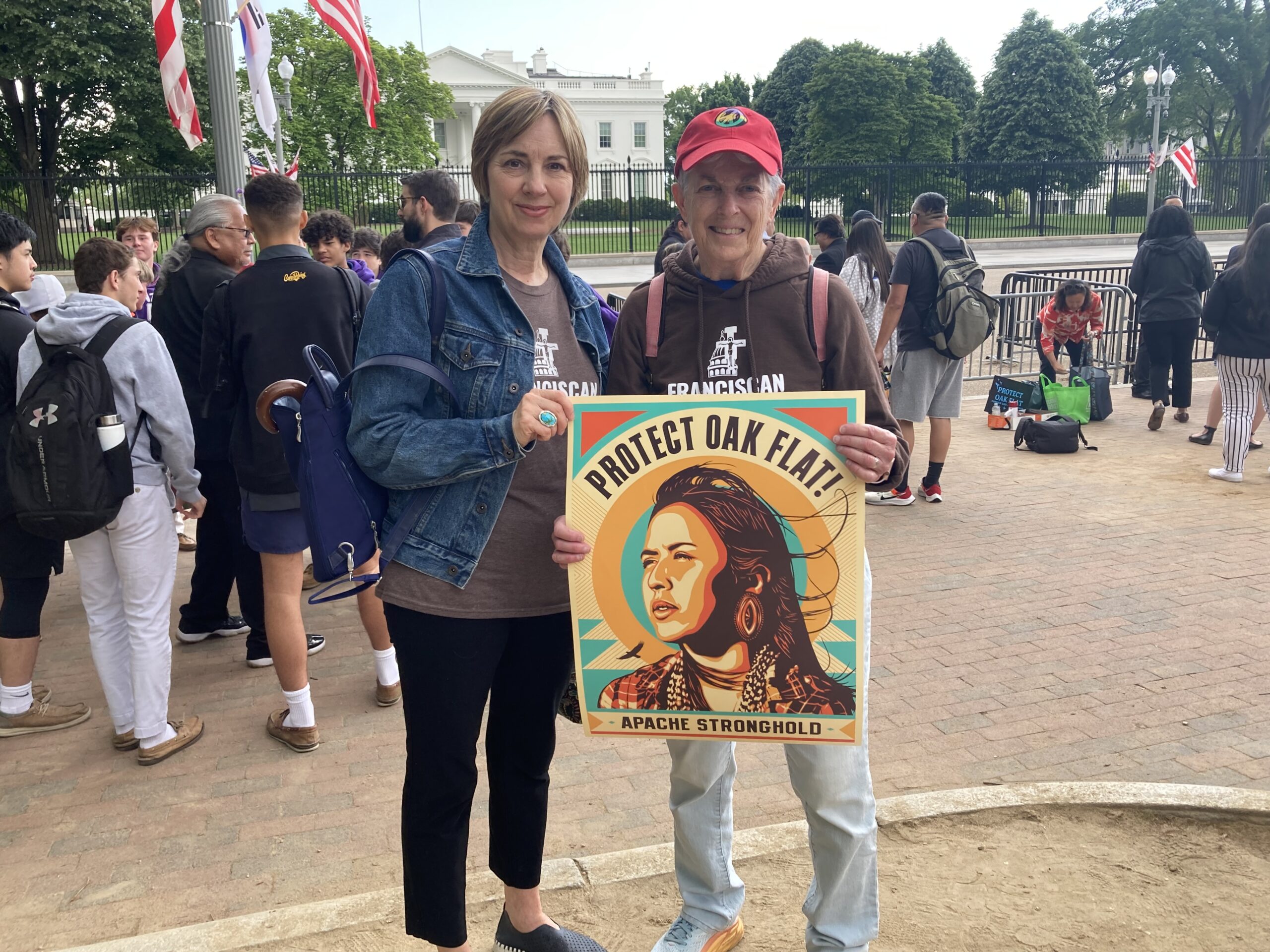 April 26: Oak Flat Prayer at White House
Several Arizona Indigenous leaders sponsored a prayer gathering for Oak Flat in front of the White House as they embark on multiple Congressional meetings. Rep. Raúl Grijalva who is a prominent advocate for the Environmental Justice for All Act was in attendance.
April 4: EPA Stop Smoking
Joined the Chesapeake Climate Action Network for a march from Freedom Plaza to the EPA urging new power plant rules on pollution.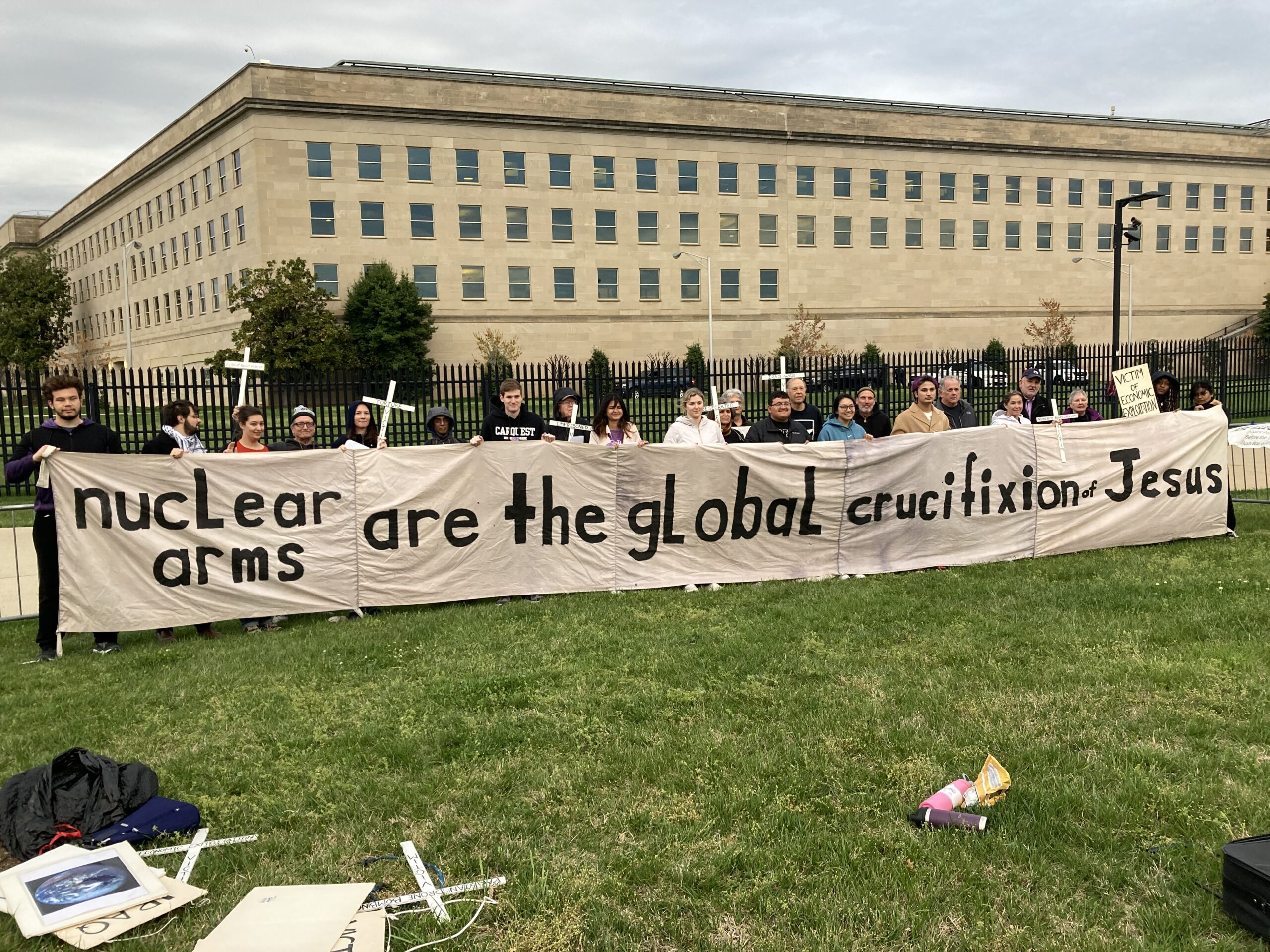 April 7: Good Friday at Pentagon
FAN joined a nonviolent witness at the Pentagon to commemorate Good Friday. Organized by the Dorothy Day Catholic Worker House and Pax Christi USA, participation included many college students. Small crosses representing victims of militarism and nuclearism, war, racial hatred, discrimination and economic exploitation were distributed among the participants.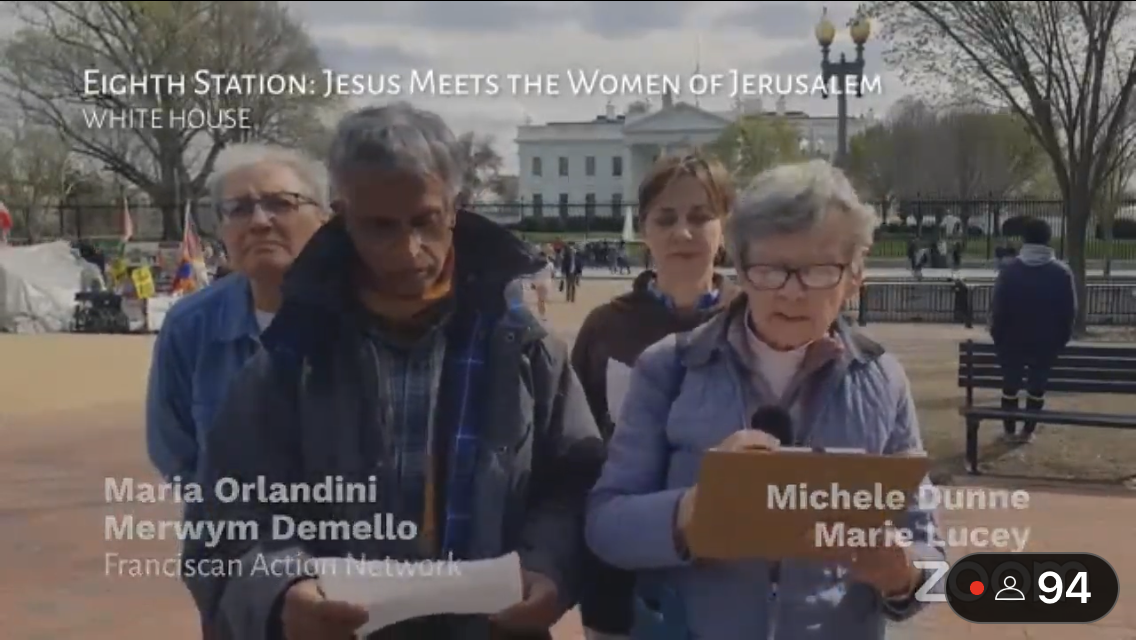 April 7: Good Friday Way of the Cross
FAN cosponsored the annual Virtual Way of the Cross for Economic and Ecological Justice. This Way of the Cross is a special observance of Christ's passion and an opportunity to reflect on the ways we have broken our covenant with God at the expense of other persons and creation.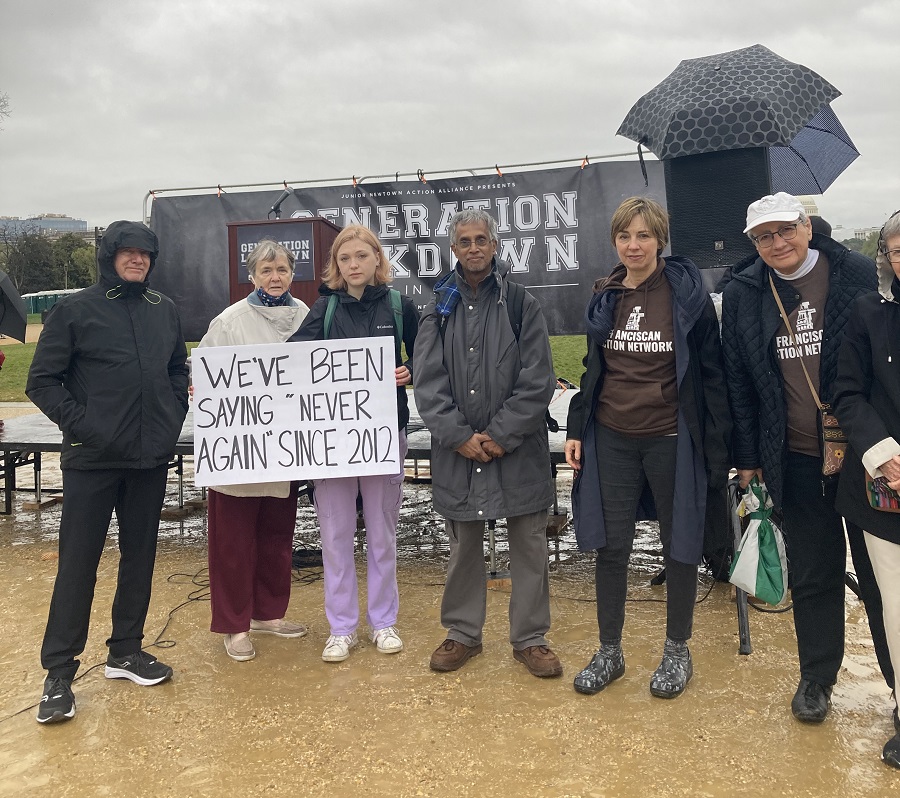 March 23: "Made in America" Rally Against Gun Violence
FAN joined the "Made in America" Rally Against Gun Violence organized by #GenerationLockdown. Included speeches were by gun violence survivors, parents of school shooting victims, members of the House of Representatives Pelosi, Cicillini, Jackson Lee, & Frost.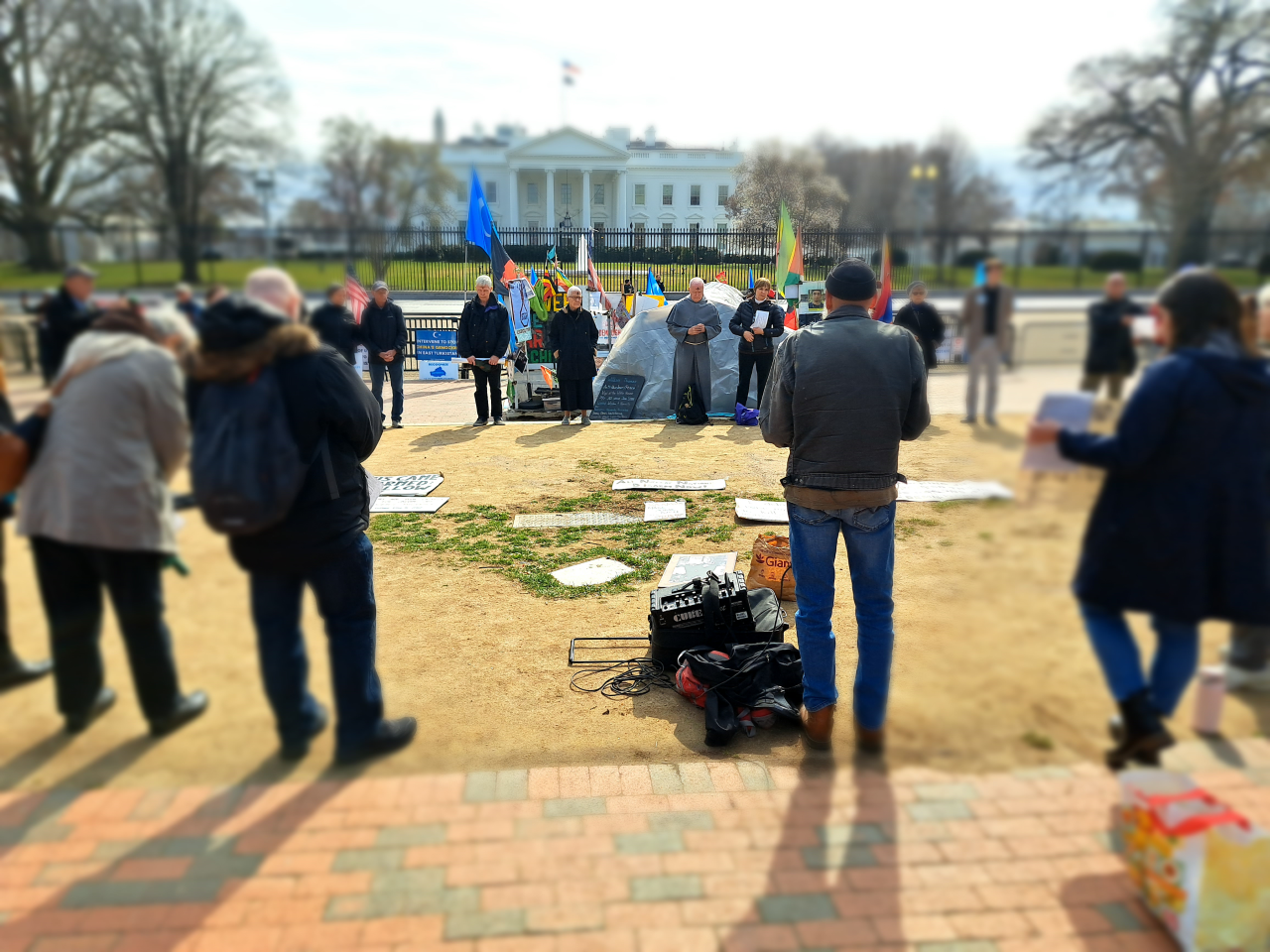 Feb. 22: Ash Wednesday Liturgy
FAN staff participated in an Ash Wednesday Liturgy of Repentance at the White House.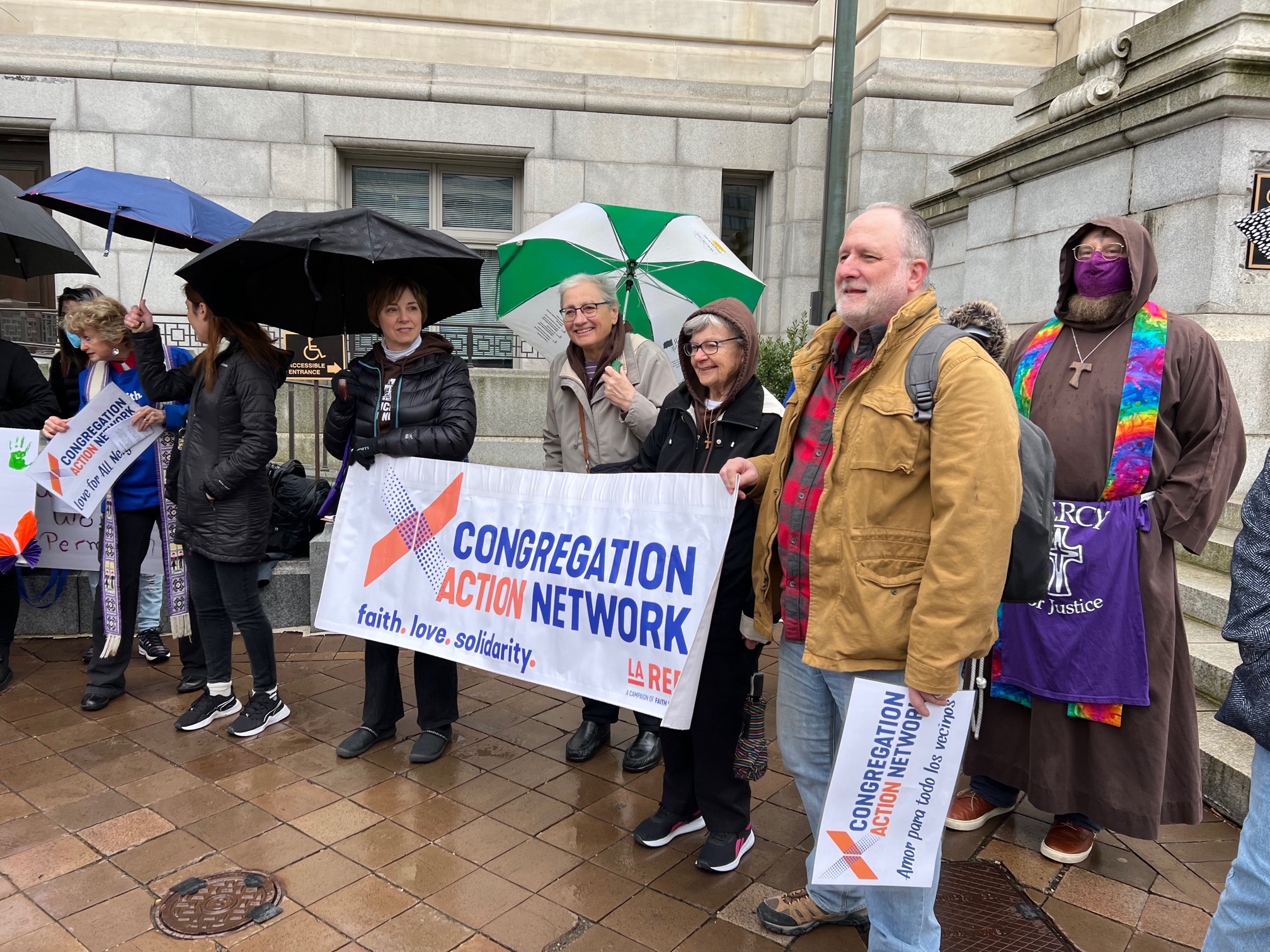 Feb. 22: Migrant Rally
FAN joined our friends at Congregation Action Network in calling for migrants in the DC area to have basic needs met.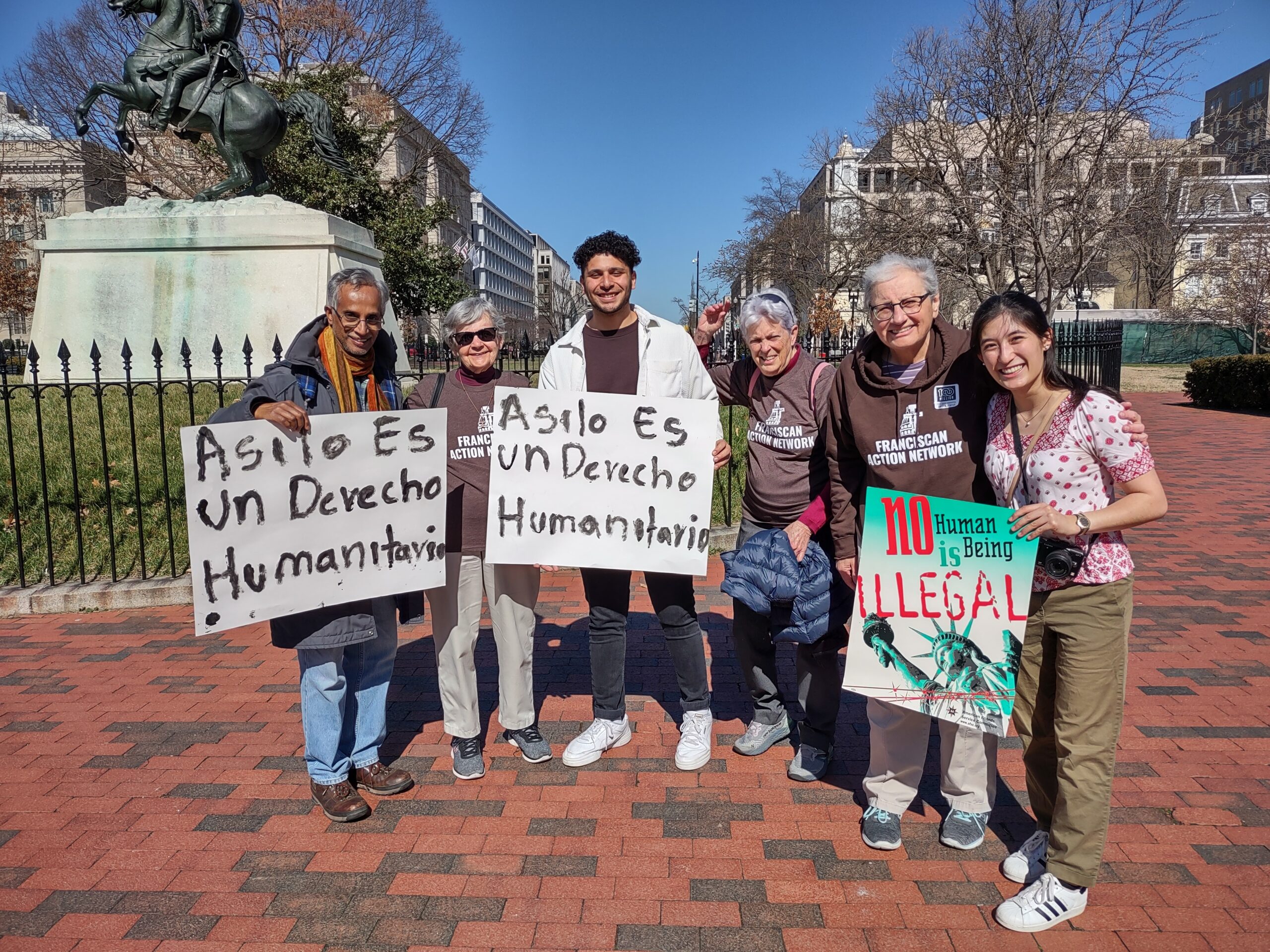 Feb. 23: Asylum Ban Protest
The FAN staff joined the Welcome with Dignity campaign and Interfaith Immigration Coalition at a rally outside the White House in protest of the proposed ban on asylum seekers at the southern border.
More photos and information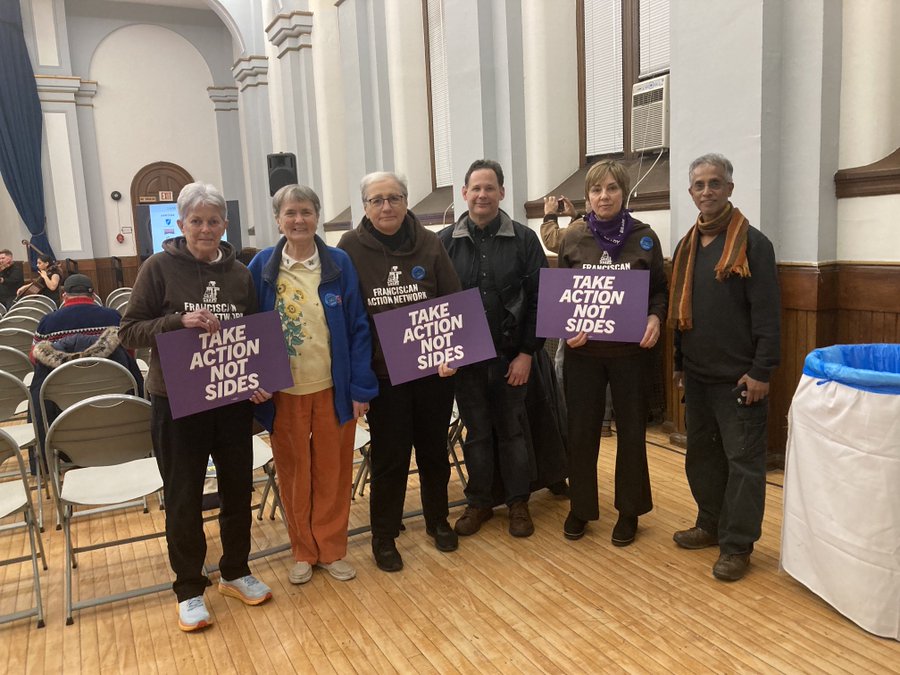 Feb. 14: Remember Parkland
FAN cosponsored this commemoration of the Parkland, FL shooting to honor victims & call for action against gun violence.
More photos and Eagle News Article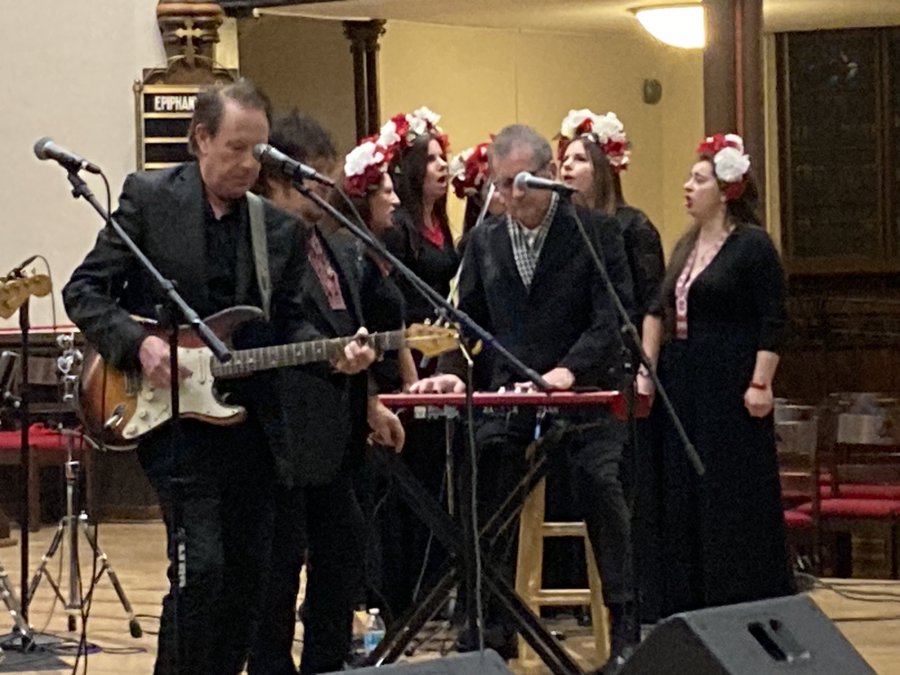 Feb. 17: Faith in Peace Concert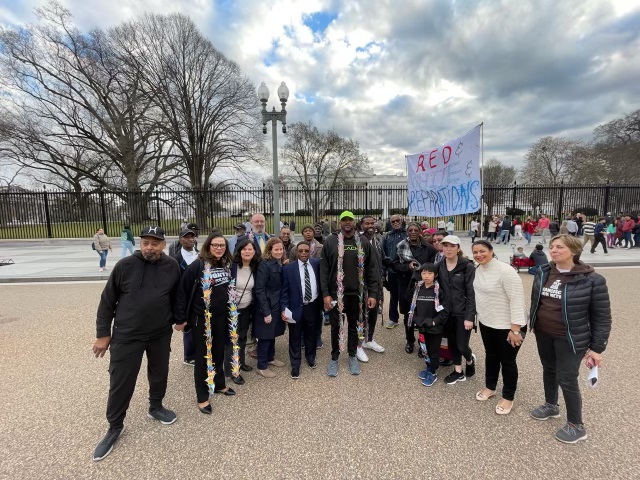 Feb. 20: 40 for 40 at White House
At the White House to greet Rev Robert Turner, who walked 40mi from Baltimore to ask the President to study reparations for the enslavement of African Americans.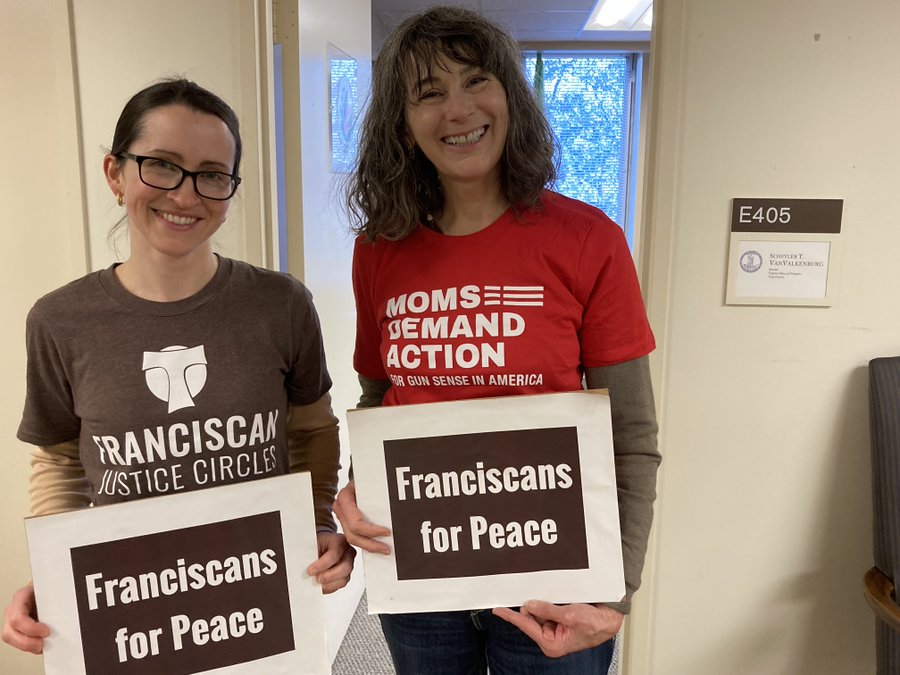 Jan. 13: Gun Violence Prevention Action in VA
Advocacy day in Richmond, VA with Moms Demand Action to engage with lawmakers on Gun Violence prevention.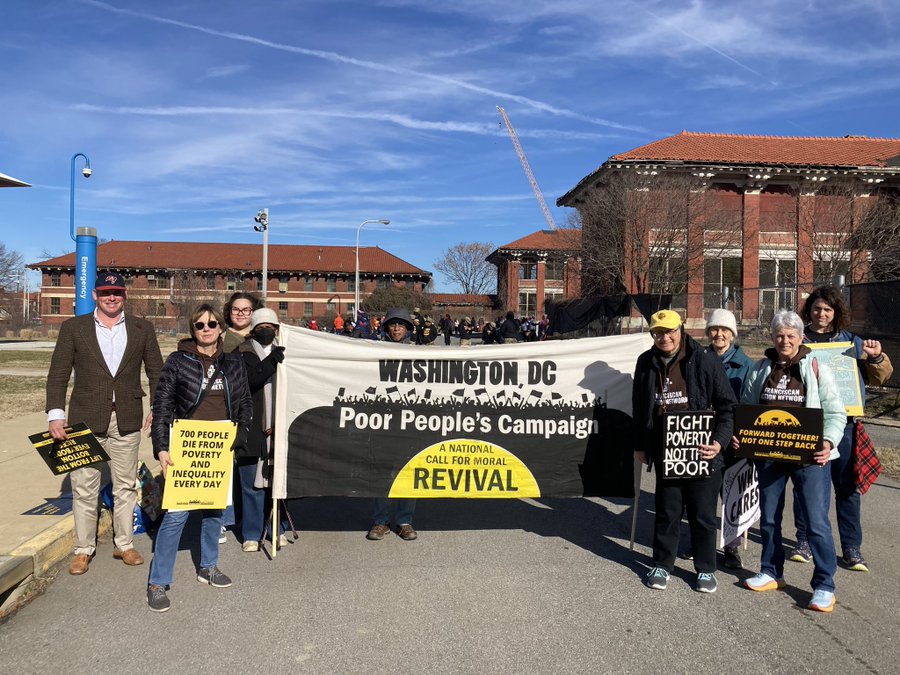 Jan. 16: Martin Luther King Day
At the Washington, DC MLK Day peace parade with the Poor Peoples Campaign to continue Dr. King's fight for social, political and economic rights.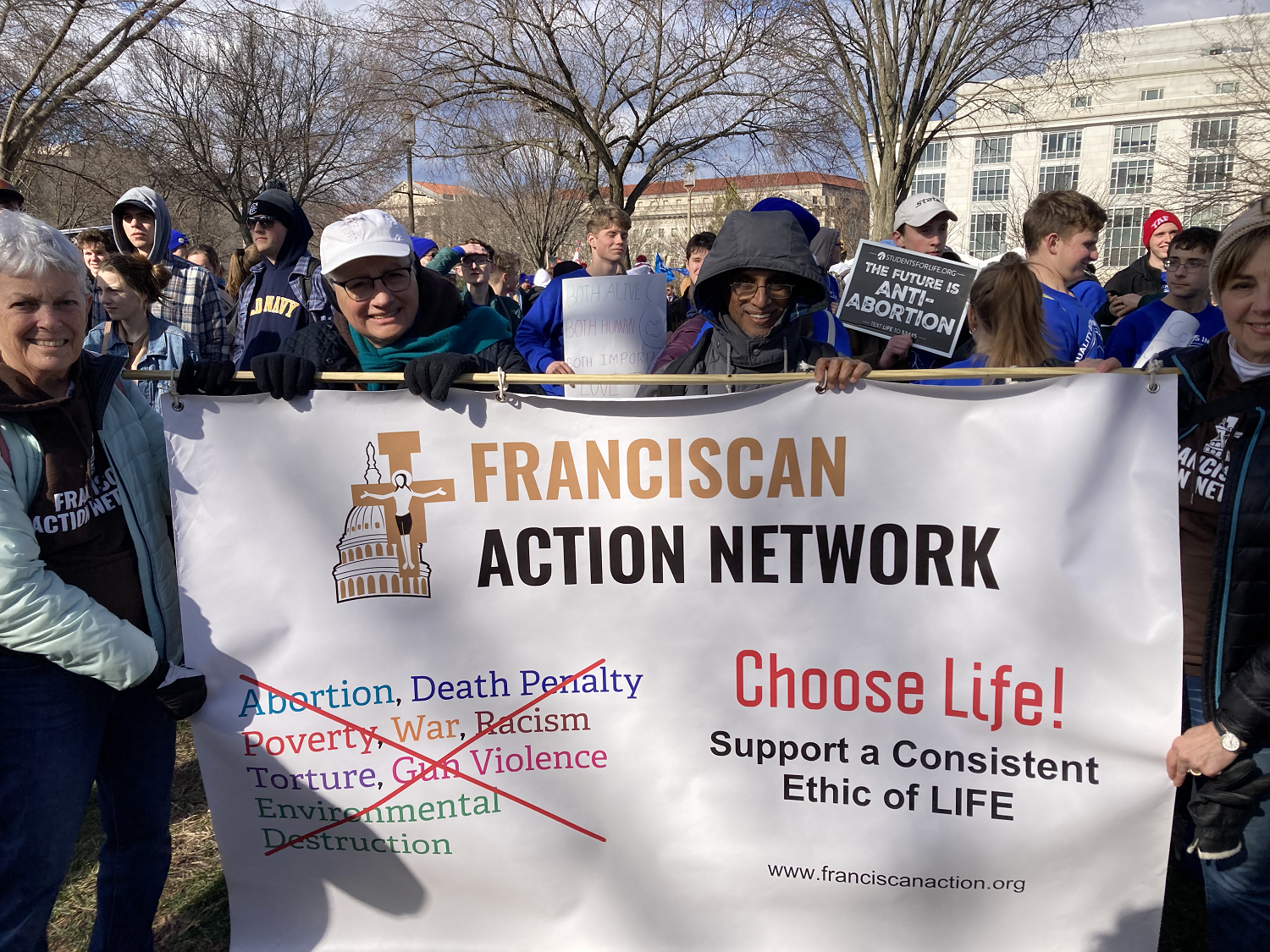 Jan. 20: March for Life
At the March for Life each year FAN marches under a banner urging a consistent ethic of life.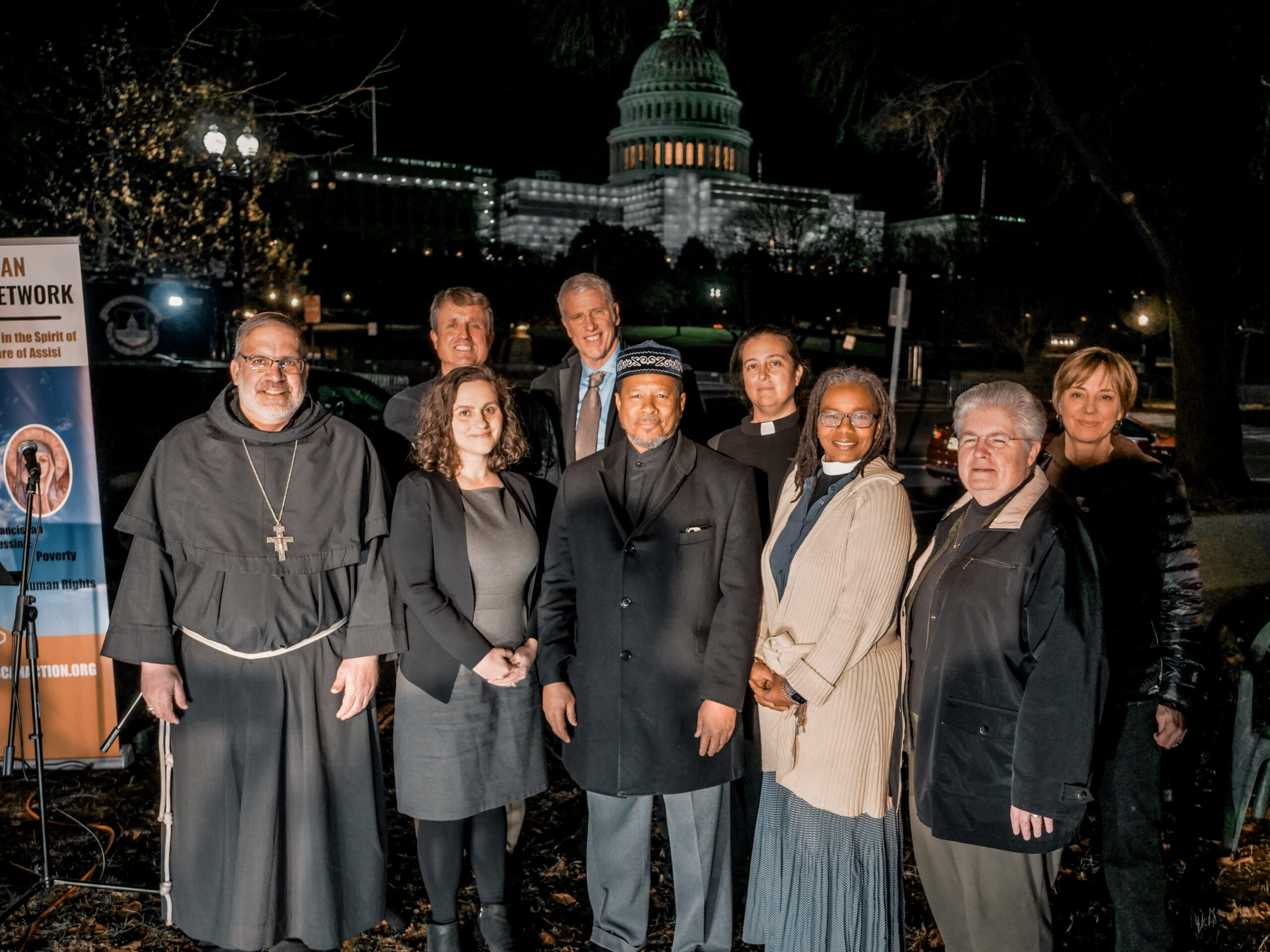 Jan. 5 & 6: Interfaith Vigil
Franciscan Action Network and Light4America together cosponsored  Christian, Muslim, & Jewish faith leaders prayed for unity & peace.
See Recording & More photos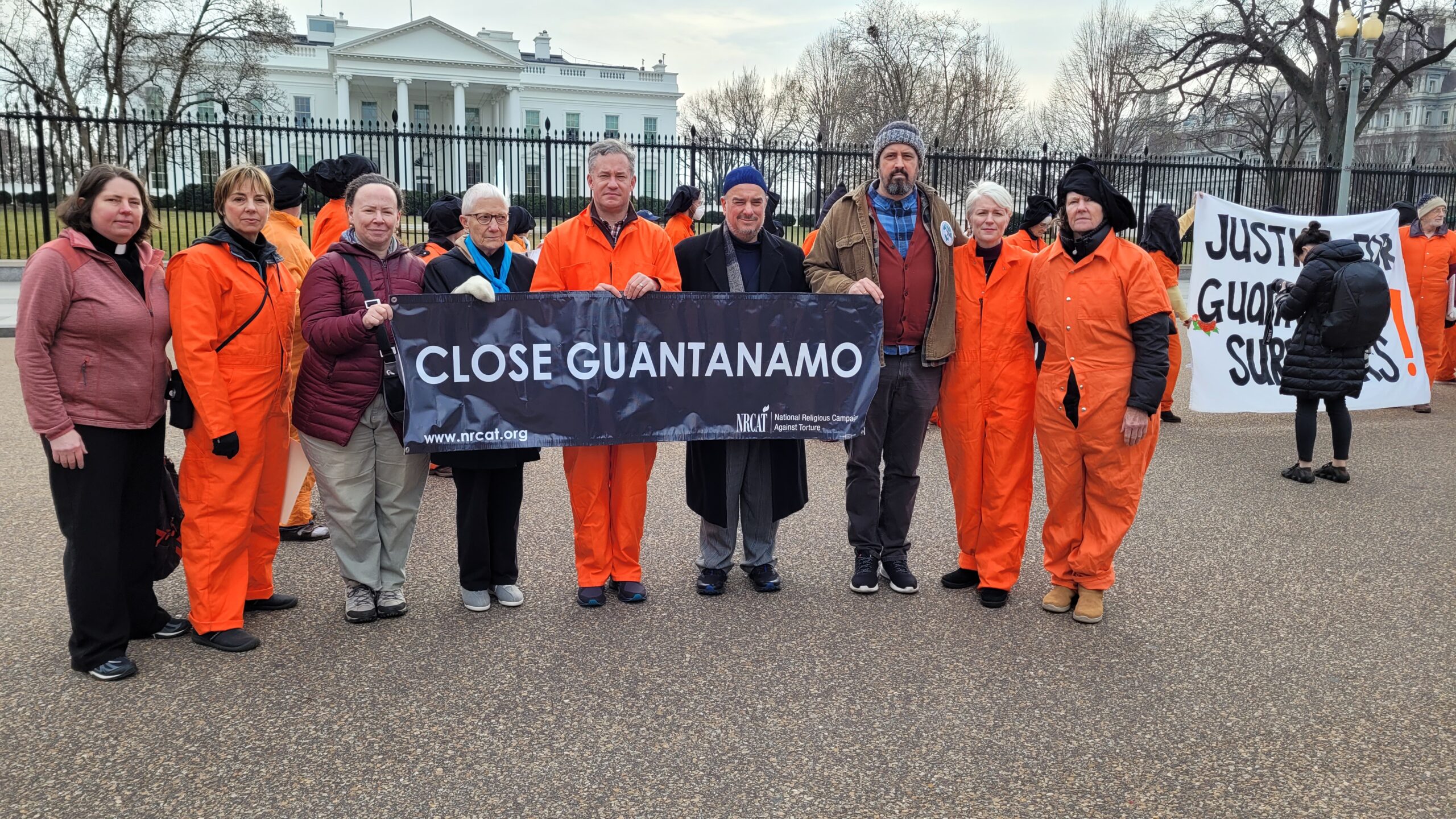 Jan. 11: Close Guantanamo
FAN joined a peaceful vigil at the White House urging the U.S. Government to close Guantanamo. Justice advocates, activists, and attorneys gathered on the 21st anniversary of the opening of the detention facility.
Sponsored by National Religious Campaign Against Torture (NRCAT)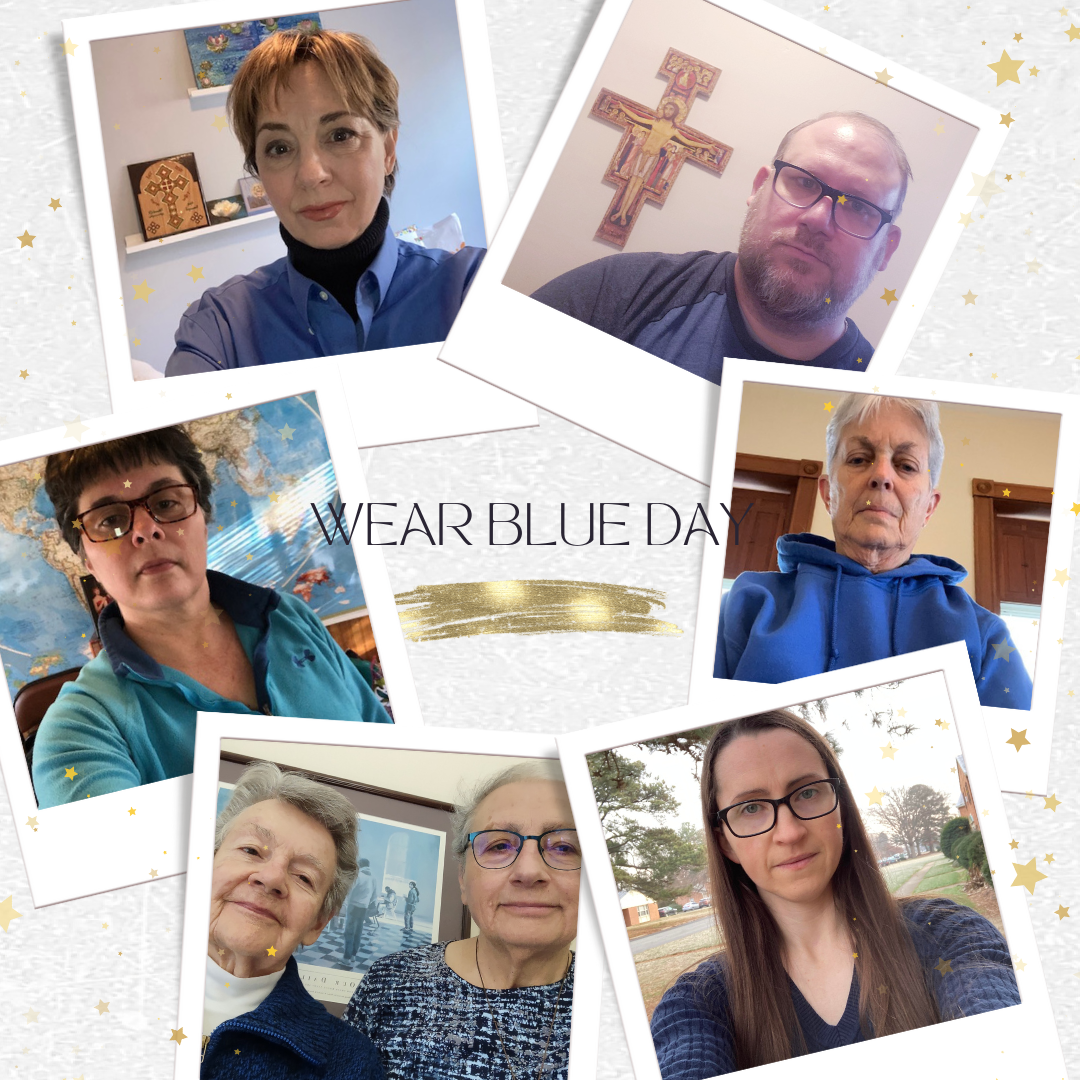 Jan. 11: Wear Blue Day
Wear Blue Day helps raise awareness about Human Trafficking. FAN staff participated on social media.