On May 20, a federal judge blocked the Biden administration from ending the use of Title 42 on May 23. Faith organizations joined advocates nationwide in lamenting the continuation of the policy, which some lawmakers are trying to maintain indefinitely. As we continue to advocate for termination of the pernicious Title 42 policy, we renew our call for citizenship for all immigrants who desire it. Below are some recent updates.
Anniversary of DACA
June 15th is the 10th anniversary of the inception of DACA. For a decade, DACA has been a band-aid instead of lasting protection for immigrants. Many continue to live with constant uncertainty as the future of DACA hangs in the balance. We invite you to learn more by attending "DACA's Precarious Future: A Conversation with Legal Experts and Advocates" on Wednesday, June 8, 2022 at 2pm ET (11am PT).
Advocate for Permanent Protections
We continue to advocate for permanent protections for our undocumented sisters and brothers. Home is Here offers this one-pager with several ways to take action on June 15th.
Latest Holy Voices Webinar
As an active and dedicated member of the Interfaith Immigration Coalition, we have promoted and participated in the Holy Voices series. Each month faith leaders, directly-impacted individuals, experts, and other advocates on the front-lines of the fight for immigrant justice share their wisdom. These virtual gatherings are an opportunity to learn, pray, and take action as an interfaith community.
Read about June's Holy Voices event here: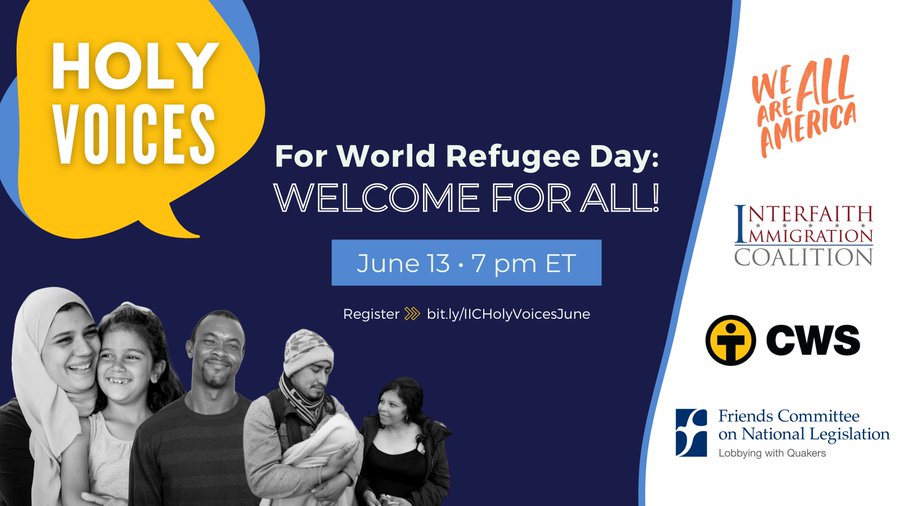 The number of people seeking safety globally continues to climb while the United State's ability to welcome them continues to deteriorate. Ahead of World Refugee Day, join in Holy Voices for World Refugee Day: Welcome For All! on June 13 at 7pm ET (4pm PT) to hear about the urgent need to restore welcome for all. From the refugee resettlement program to the asylum system, speakers will educate, inspire, and equip attendees to advocate for change.
One Journey Festival
One Journey Festival amplifies refugee voices and enhances public awareness of refugee talents and contributions. After a two year hiatus, the One Journey Festival is returning to Washington DC, June 25, from 11 am-6 pm ET.
Celebrate refugee contributions and stories of resilience and hope at the third annual One Journey Festival, which will bring people together through our modern-day shared languages of art, food, music, dance, storytelling, soccer, and technology. Register here.