Description:
Inspired by Saint Francis of Assisi, Pope Francis' Fratelli Tutti calls for a way of life marked by the "flavor of the Gospel." The pope's latest encyclical focuses on contemporary social and economic problems while urging an ideal world of more human fraternity and solidarity. Franciscan Action Network is excited to bring to you a series of panel discussions that will unpack the Holy Father's directives to help heal divisions and guide us towards better unity.
"God is universal love, and as long as we are part of that love and share in it, we are called to universal fraternity, which is openness to all." (Ch.3) The Holy Father implores us to strive for a world "without walls, without borders, without people rejected, without strangers." In order to achieve this world, he says, each of us needs an open heart. (Ch. 4)
As a way to enrich our understanding and reflection on the encyclical, Franciscan Action Network hosted four panel discussions on Fratelli Tutti in conjunction with specific topics. Each was moderated by our own Executive Director, Stephen Schneck.
Please note, if you are unable to attend the live discussions for any reason, we will be making recordings available. Scroll to the bottom of this page for the links.
Here is a link to the encyclical: Fratelli Tutti
We greatly enjoyed all of these vibrant conversations and we hope you did too. Peace and all good.
Video Recording Links
Each of our Fratelli Tutti panel discussions was recorded and can be accessed below.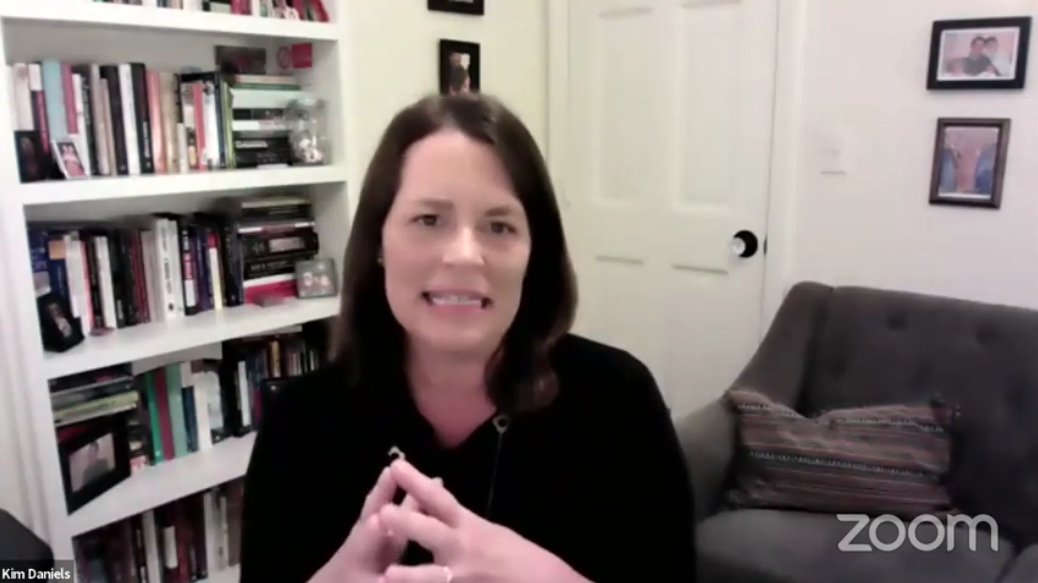 Fratelli Tutti on Culture and Society*
View Recording here: https://youtu.be/szj4srISlvk
On May 5, 2021, Franciscan Action Network hosted the first in a series of four discussions* on Fratelli Tutti, Pope Francis' latest encyclical. Our panelists, Kim Daniels and Heidi Schlumpf went deeply into the message of the encyclical, specifically about solidarity, community, family, friendship, and the common good and how we can engage in a pluralistic society while avoiding "tribalism." There was rich conversation and thought-provoking questions.
*Recording begins abruptly due to technical difficulties at the start.
Panelists:
Kim Daniels is the co-director of Georgetown University's Initiative on Catholic Social Thought and Public Life. She was appointed by Pope Francis as a Member of the Vatican Dicastery for Communication in 2016, and has advised the US bishops and major Catholic institutions on a broad range of issues where Church teachings intersect with public life, including immigration, human life and dignity, religious liberty, and care for creation.
Heidi Schlumpf is the executive editor of the National Catholic Reporter, after serving as the publication's national correspondent for three years. She has three decades of experience covering religion, spirituality, social justice and women's issues, having previously served as managing editor of U.S. Catholic magazine and as a reporter at Chicago's archdiocesan newspaper and secular newspapers in California and Wisconsin. Her work has been published by CNN Opinion, Sojourners and Huffington Post. A graduate of the University of Notre Dame, she earned a master's of theological studies from Garrett Evangelical Theological Seminary at Northwestern University. She is an author and editor of several titles and is based in Chicago, where she lives with her husband, Edmund, and their two children.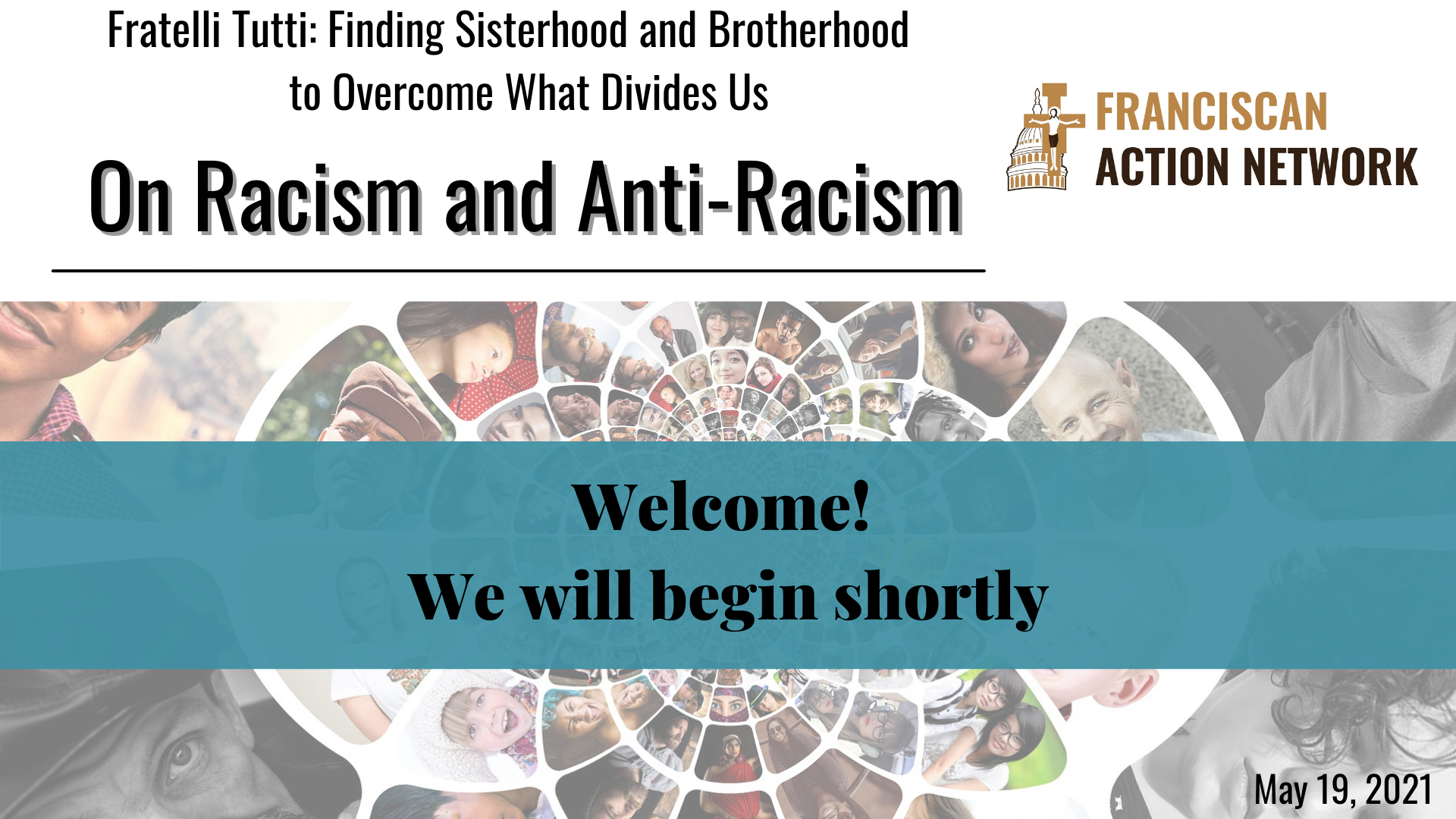 Fratelli Tutti on Racism and Anti-Racism
View recording here: https://youtu.be/XtheAPr1DyI
On May 19, 2021, Franciscan Action Network hosted the second in our series of four panel discussions on Fratelli Tutti, Pope Francis' latest encyclical. Our panelists, Olga Segura and Ralph McCloud guided participants through some thought-provoking aspects of what racism looks like in our systems and policies and what we can do to begin to address it.
Panelists:
Olga Marina Segura is the opinion and culture editor at the National Catholic Reporter and the author of Birth of A Movement: Black Lives Matter and the Catholic Church. Previously, she was an associate editor at America Media, where she wrote and solicited articles on race and culture. Her writing has appeared in The Guardian, Shondaland, Sojourners, Refinery29, and The Revealer.
Prior to working at America Media, Olga was an intern at the Permanent Mission of the Dominican Republic to the United Nations. She graduated from Fordham University with a Bachelor of Arts in English and a Bachelor of Arts in Italian Language and Literature. She speaks Italian and Spanish fluently and was born in Santo Domingo, Dominican Republic.
Ralph McCloud is the Director of the Catholic Campaign for Human Development (CCHD), an anti-poverty program of the United States Conference of Catholic Bishops. CCHD is the domestic anti-poverty program of the U.S. Catholic Bishops. He is a recipient of the Texas Courage Award from the Texas Coalition to Abolish the Death Penalty, the History Maker Award from the Archdiocese of Atlanta, Catholic Charities USA's Keep the Dream Alive Award, and the Bishop John Joseph Keane Medallion from the Catholic University of America. He currently serves on the board of the Catholic Mobilizing Network and Ralph is a member of St. Teresa of Avila Parish in Washington DC.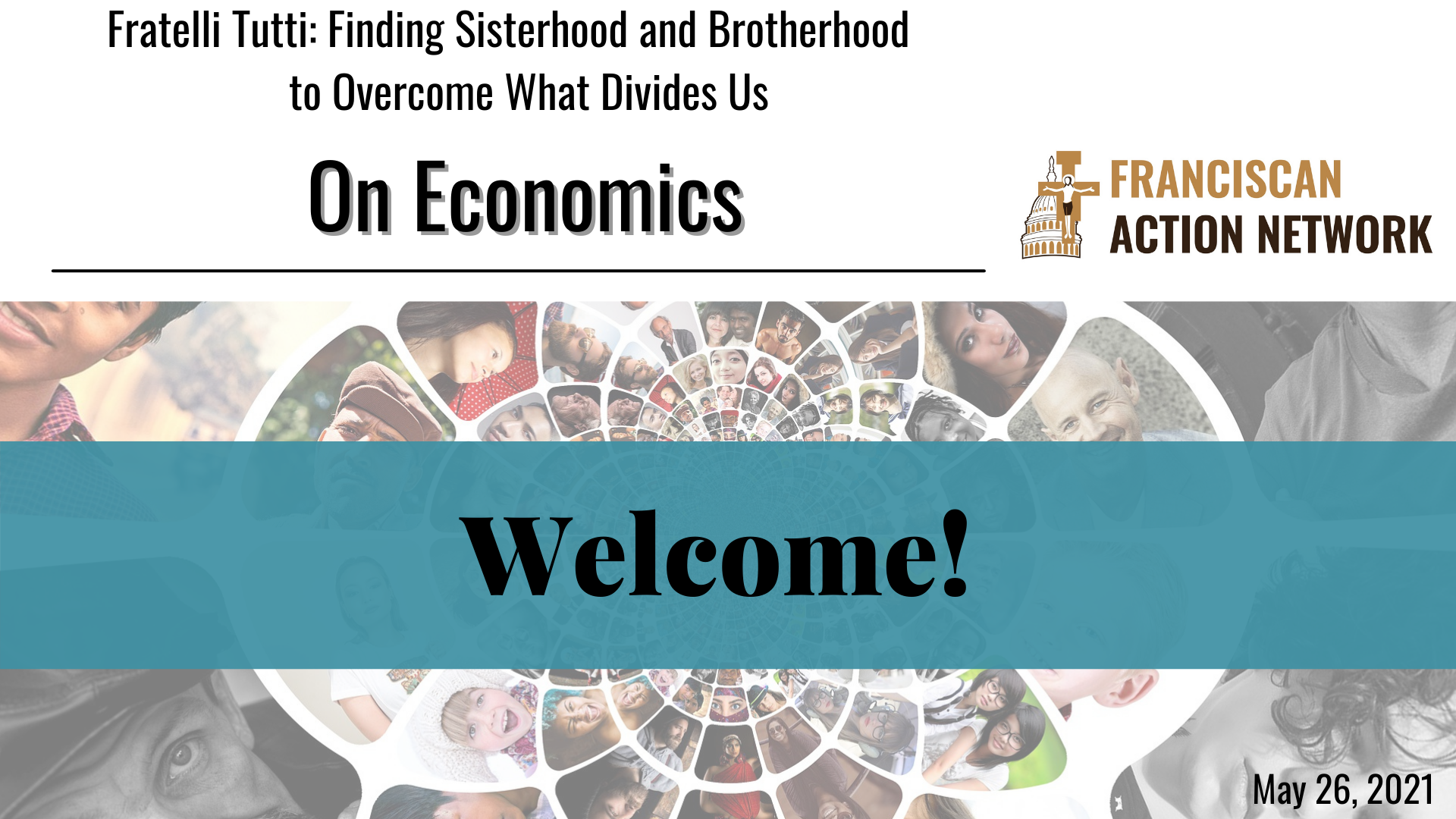 Fratelli Tutti on Economics
View recording here: https://youtu.be/K2da_OBqm30
On May 26, 2021 Franciscan Action Network hosted our third panel discussion on Pope Francis's encyclical Fratelli Tutti, focusing on Economics. Theologian Dr. Meghan Clark and economist Dr. Anthony Annett considered the encyclical's central parable of the Good Samaritan, and discussed how each person takes on a different role in the story in their various stages of life. They also expounded on the ethics of how economic "growth" is measured and reported today–who is left out of current metrics, and how these metrics take equity and health into account.
Panelists:
Anthony (Tony) Annett is a Gabelli Fellow at Fordham University and a Senior Advisor at the Sustainable Development Solutions Network. He has a Ph.D. in economics from Columbia University, and spent two decades at the International Monetary Fund, including as speechwriter for two Managing Directors. He is also a member of the College of Fellows of the Dominican School of Philosophy in Theology in Berkeley and is a Knight Commander of the Equestrian Order of the Holy Sepulchre of Jerusalem.
Meghan J. Clark is an associate professor of moral theology at St. John's University (NY). She is author of The Vision of Catholic Social Thought: the Virtue of Solidarity and the Praxis of Human Rights (Fortress Press, 2014). In 2015, she was a Fulbright Scholar at Hekima Institute for Peace Studies and International Relations at Hekima University College, Nairobi, Kenya. Active in public theology, she is a columnist for US Catholic magazine. She received her PhD in Theological Ethics from Boston College (2009).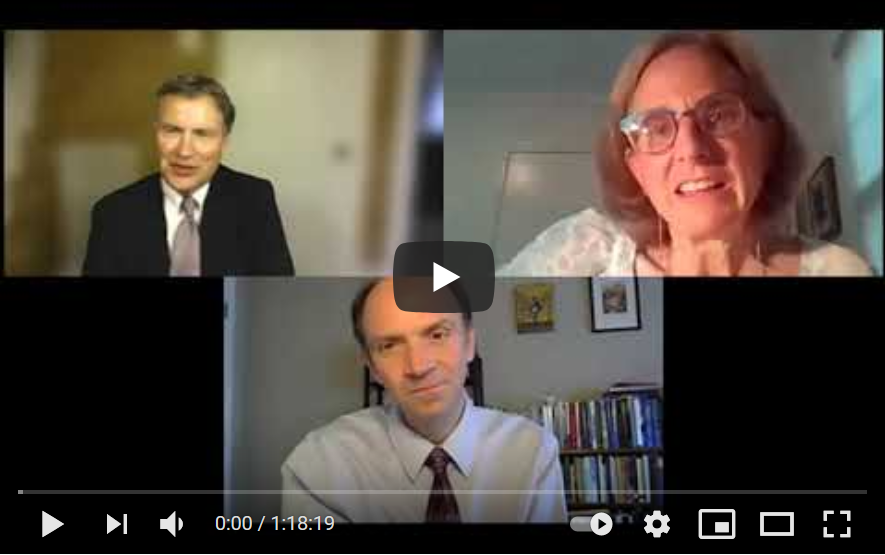 Fratelli Tutti on Governance and Politics
View Recording here: https://youtu.be/sLVA_XqHD04
On June 16, 2021, Franciscan Action Network hosted our final panel discussion in our series on Fratelli Tutti. We welcomed author of "Five Steps to a Positive Vision of Politics", Amy Uelmen and associate professor of moral theology at The Catholic University of America in Washington, DC, David Cloutier. The panel discussed how the parable of the Good Samaritan should influence our thinking of governance and politics and how we can formulate a politics that communicates through "real dialogue."
Due to technical difficulties, our Zoom room only allowed a 100 person capacity. We are sorry for this inconvenience and hope you will watch the recording.
Panelists:
Amy Uelmen is a Lecturer in Religion & Professional Life and Special Advisor to the Dean at Georgetown Law and a Senior Research Fellow at Georgetown's Berkley Center for Religion, Peace and World Affairs. She has authored numerous law review articles and two books about political dialogue, both with New City Press: Five Steps to a Positive Vision of Politics and Five Steps to Healing Polarization in the Classroom (with Michael Kessler). She holds a BA, JD and SJD research doctorate from Georgetown University, and a MA in Theology from Fordham University. She is a longtime member of the Focolare Movement and wrote this Whither Dialogue After the Capitol Riot? in response to the January 6th attack on the Capitol.
David Cloutier (B.A., Carleton; Ph.D. Duke) is associate professor of moral theology at The Catholic University of America in Washington, DC, teaching primarily Catholic social ethics. He is the author of a number of books, including The Vice of Luxury: Economic Excess in a Consumer Age (Georgetown University Press) Walking God's Earth: The Environment and Catholic Theology, and Reading Praying Living Pope Francis' Laudato Si' (both from Liturgical Press). His writing has appeared in Commonweal, America, and US Catholic, among others. He is currently working on "work" in Catholic social thought, and the broader topic of how social structures affect individual moral agency.