Over the last several months, Franciscan Action Network has joined several of our faith partners in speaking out against the federal death penalty, which after 17 years was reinstated this year by Attorney General William Barr.  As Franciscans we work to promote that all life is sacred, from conception to natural death.  As Catholics we heed our religious leaders who have stated clearly "that "the death penalty is inadmissible"[247] and the Church is firmly committed to calling for its abolition worldwide.[248]" [Fratelli Tutti]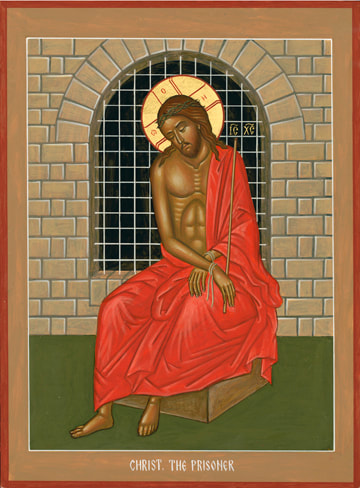 We have taken advantage of several opportunites recently to make our voices heard on this issue. Together, with other faith partners, we signed onto a letter to Attorney General Barr opposing his acceptanve of the "Christifideles Laici" award from the National Catholic Prayer Breakfast and calling for an end to federal excecutions.
[Christ the Prisoner Icon by Nikolai Tsai]
Franciscan Action Network co-sponsored a press conference with Death Penalty Action highlighting recent federal executions.  FAN's own Jason Miller spoke at the event calling attention to the letter mentioned above.  Jason's remarks from the press conference were aired on KPFA's Pacficia Evening News.
As a supporter of the Catholic Mobilizing Network, we have promoted the series of Virtual Prayer Vigils they have organized as a space to pray and lament as a faith community in the face of these attacks on human dignity.